Continuing its improving trend, this week's episode of Criminal Minds: Suspect Behavior, "See No Evil" came very close to having no evils to speak about.
This episode gave us more of what we needed to make the cast comfortable, familiar, and enjoyable to watch. I connected with the characters more than ever before.
The entire team pitched in on the behavior of the "UnSub" as each character got some decent screen time with them alone or only one other person.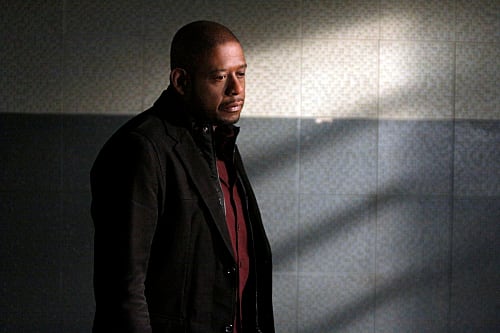 A couple of these scenes that stand out for me were Cooper and Griffith's banter at the beginning and end of the show about being the first one in the office; along with Simms and Rawson in the field discussing how you can't pick psychotic out on sight. 
Thank you CBS; these are the scenes you need to help us invest in the characters.
Further, after commenting last week that the show hardly used any of the characters' names, this week I was pleasantly surprised to hear the names spoken an average if about four times per character, as first names and once as "agent [last name]."
On the flipside, a lot of times they still jumped straight to a conversation, skipping over where the agent would introduce himself or herself to that person.
This not only makes the audience feel like we are coming into the middle of a conversation, but also contributes to that lack-of-using-names problem.
We also wanted to know more about each team member, and got to this week. Cooper is the expert in how criminals think. He does this by channeling them and getting in their mindset. Yet again, something that should have been in the pilot!
For the first time, the show actually threw in a twist I did not see coming. Given that the "UnSub" was known to be a woman with brown hair and a slight build, when Torri Higginson (formerly of Stargate Atlantis) came on screen as Dr. Karen Martin, I thought we had our bad guy.
I was utterly surprised when she turned out to be a victim. This was a great job of "red herring" casting and I fell for it hook, link, sinker, and fishing pole.
That admission out of the way, I will state that once they stopped distorting her voice (when she was talking to Dr. Martin) I immediately asked myself "why does that sound like Justine Bateman?" So I was not surprised when Bateman made her appearance a little later on screen.
Not only is it great to see Mallory Keaton working again, but Ms. Bateman does an amazing job playing a psychotic.  
Overall, the show has improved more than I thought it could in the two short weeks since the pilot first darkened our TVs. This episode makes me very hopeful that it will continue to refine itself and get better. 
What did you think of this installment of Criminal Minds: Suspect Behavior? Comment below and share your thoughts on the show.
Jim G. is a TV Fanatic Staff Writer. Follow him on Twitter.