Are you ready to be shocked, Big Love fans? In an exclusive interview, Cassi Thomson talks about her role on this HBO hit and prepares us for an exciting series finale...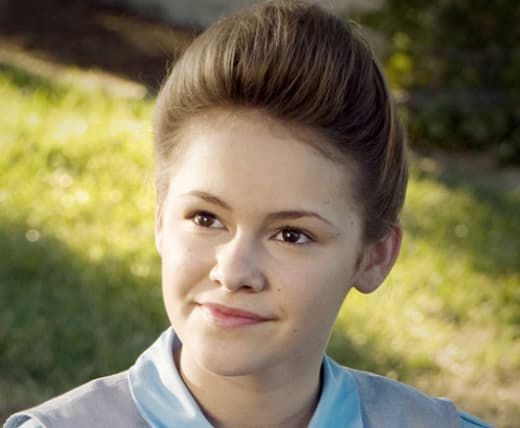 Was it harder or easier than you expected for you to get into the mindset of Cara Lynn?
Probably easier than I expected because the creators were so great to me. I thought it was going to be a very challenging character to get into and understand, but after I sat with the creators Mark [V. Olsen] and Will [Scheffer] and had a talk about her, I really had an understanding of where she was in life. I read some books on polygamy. I just got right into it. I felt comfortable with the material they gave me.
Do you have a sense of responsibility for young girls that watch the show and can relate to your character?
Yeah. Every time you're playing a character that's a young girl, you're always going to think about the audience and girls who are going through a similar thing with their parents. Maybe not similar as in dating older men, but she has a lot of turmoil going on with her mom and finding out about her father's death, so it's always a concern. As an actress, you always want to make sure your audience can relate to you.
Did the show change you're perspective on life? Did you have prior knowledge of polygamy?
I didn't realize how much polygamy is still going on in the world. I thought it was something that died out a long time ago. Once I booked the role of Cara Lynn and started doing my research, I realized that there are still many compounds in the U.S., in Utah and Texas, these places still exist. It definitely did shed light on a subject matter that I had no idea was still happening in this modern society.
Do you think your character finds anything wrong about being in love with a man 15 years her senior?
Yes. I think she knows that it's not quite right and the family could take a lot of heat for it, but I don't think she feels like it's necessarily a bad thing to be in love with him. When you're in love, you don't think about it. She is aware that this could bring a lot of heat, with what's going on with Bill and Margene. Another young girl dating an older man could be very detrimental.
Does Cara Lynn feel that her father's death is partially her mother's fault?
Oh yeah, for sure. I think Cara Lynn holds a lot of resentment towards her mom. Maybe she doesn't think it's her fault he's dead, but she definitely holds her at fault for lying to her about it. Nikki can sometime be naïve in her thinking, but Cara Lynn is not naïve at all. She's very mature and intelligent. As we've seen she's kind of a math prodigy, she's very intelligent and can see through manipulations and tricks and lies. The fact that Nikki lied to her is a big thing, she feels very betrayed by her.
What can we expect on the series finale?
There's not much I can say. It's going to be good. I was really happy with it, and I know the four regulars were very happy with it so I think the fans will be too. Be prepared to be shocked. Every character will be affected by what happens.
Talk about your upcoming television movie, Rock the House.
It's a movie that will be premiering on Hallmark around Father's Day. It's about a father/daughter relationship starring myself and Jack Coleman. Jack's character is a lawyer who's been busy and away from his daughter, so their relationship has taken a big blow. Their relationship is full of empty promises and my character, Carol has had it. She doesn't trust her dad anymore. He realized he's about to lose her, so they start bonding through music and he realizes she can sing. It's a tearjerker.