I knew we were in for a solid Glee episode when it kicked off with a song ("Misery") and then instantly addressed a long-running beef I've had with one aspect of the show:
Why the heck does Blaine get every single Warbers solo?
From there, "Original Song" delivered one winning performance after another, focused on actual relationship and character developments and proved one indisputable fact: my goodness, Lea Michele can sing.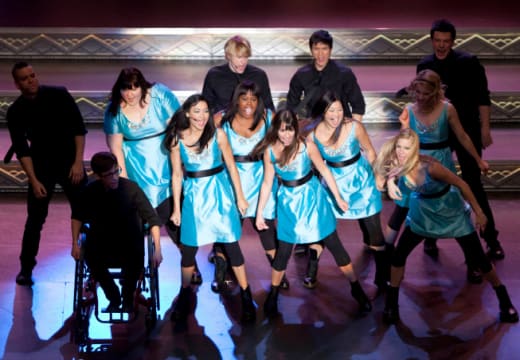 Rachel's "Get It Right" was the highlight of the hour, as it did a lot more than merely showcase Michele's pipes. It spoke to the evolution and struggle of this girl, someone who has gone from cute to irritating to the most obvious MVP candidate since Tom Brady.
I somehow doubt Mr. Bundchen broke down while accepting the trophy, however.
Elsewhere, Blaine and Kurt didn't preach to the audience in any way. They simply acted like two students falling for each other, as writers resisted the effort to just throw these two into a relationship from the outset. Such patience paid off in a kiss that viewers have been clamoring for and which felt completely earned.
And then a second kiss because, come on, it's Darren Criss!
On the Finn/Rachel/Quinn front, the latter was doing all she could to revisit her days as the school's queen bee, but you could tell she didn't really buy it. Her eyes welled up as she told Rachel off because Quinn is simply unsure of who she is. Without the prom crown and the head cheerleader outfit, how does she define herself? By being Finn's girlfriend, she thought, but not at the expense of a couple that is clearly meant to be.
I expect Finchel fans to soon be rejoicing when Quinn realizes she can no longer stand in the way.
One aspect of the episode felt forced and superfluous, however: the use of the Regionals judges. I'm typically all for some good Sarah Palin mockery, but it felt shoved in and out of place here, like producers lost a bet to Kathy Griffin and had to pay up via such a cameo.
Overall, this was the sort of episode that made me fall in love with Glee in the first place. Great acting, non-stop singing - a total of seven songs, not including such classics as "Trouty Mouth" and "Big Ass Heart" - and relationships that make you both laugh and cry.
With the show taking a few weeks off until April, this was the ideal way to go out. What did everyone else think?
Matt Richenthal is the Editor in Chief of TV Fanatic. Follow him on Twitter and on Google+.