Without any new characters added to the mix on this week's Justified, plenty of the action moved along quickly for our favorite Kentucky natives. Specifically, "Cottonmouth" brought Boyd Crowder and his mining co-workers to the forefront, as Kyle's plan to rob the mine was finally played out.
It's been a while since I've referenced Walton Goggins' role in my favorite Western Comedy, Shanghai Noon. I find it a perfect time to mention his presence in that movie because Boyd "winging it" during the entire mine robbery/bomb explosion was exactly what Roy O'Bannon told Goggins' character not to do when robbing the train in the opening scene.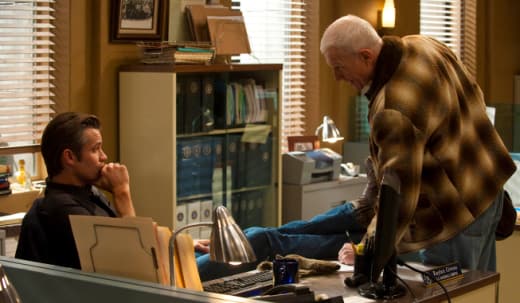 Boyd was just fantastic in this entire episode, though. Between the cell phone to house phone call, stealing the crew's cell phones and having Ava call one to give himself time to switch the bomb - and then shooting the bad guys that didn't get everything but their feet blown up by the bomb, Mr. Crowder definitely got his groove back.
But the question remains: is Boyd for good or for evil? Yeah, he stopped those jerks from blowing up and robbing the mine, but he ended up killing the three of them and taking the money to give to Ava.  When Ava asked him why he agreed to the job in the first place, Boyd responded: "Because it's what I do. It's who I am, Ava. As hard as I've been trying to pretend otherwise. Everybody else seems to know that but me."  
The man knows that he is a bad egg, he just didn't want to believe it.
What was great about that entire plot was that it was so similar to a typical Justified/Elmore Leonard bad guy story. We got to watch the criminals do their thing and eventually start fighting with each other until they screw the pooch. That's when Raylan came in and saved the day.  
Because this episode featured Boyd as one of the baddies, we got a new twist. The criminals certainly aren't getting along, but because Boyd is such a stud, he turns their entire plan on its head, takes out all the bad guys, and gets away scott free. That is, if Ava agrees to help him out with an alabi.
While Boyd was attempting to figure who he is, Raylan was attempting to find what the Bennetts are actually up to these days. It will be exciting to see how everything with Raylan and the Bennetts continues to slowly work itself out.
Luckily for our favorite Deputy Marshal, it seems Mags Bennett is much nicer to her enemies than she is to her own family. Really, Mags? You're slamming your son's hand to pieces with a hammer? This woman is tough.  
Watching that scene made me wonder if maybe she was actually the one that crippled Dickie. I'm sure it had something to do with the history between her family and the Givens, but what if those relations caused her to hurt her own son like that?  Could be a nice touch.  She seems crazy enough to do anything.
So... what is Raylan's next move in finding out what the Bennetts are up to? And what did Boyd actually ask Ava to do for him? Is Boyd going to go to jail for that whole fiasco? And were there enough cop cars pulling up to Ava's house to take Boyd away?
Dan Forcella is a TV Fanatic Staff Writer. Follow him on Twitter.