Another quiet, yet powerful Lights Out graced our TV sets with a fantastic performance by Eammon Walker as Ed Romeo.
"Infight" continued Ed's unusual training style. A little wax on, wax off, kept Patrick going through tire routines and late night jogs. I wonder if Holt McCallany knew he'd be doing as much working out as he would be acting?
It was this new role of leadership that escalated the family tension and left Patrick trying not to pick sides.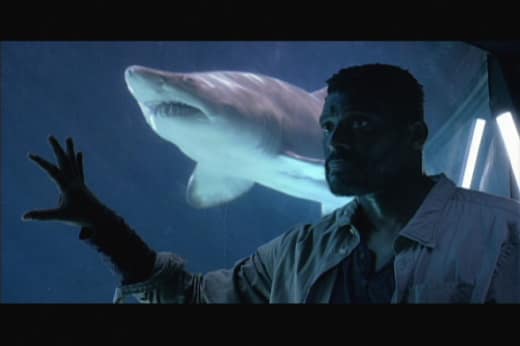 When it comes to training, it's all about the shark metaphors.
On the one hand, Patrick's wife and daughters adored Ed and fully supported his techniques. On the other, Pops and Johnny were being pushed out of the equation. How can a guy pick family over family?
It's surprising that Theresa seemed more invested in her husband's work. She seems to flip flop on boxing, but perhaps she was trying to show some support. She was certainly quick to reveal her past to Ed, which added some trust issues for the husband and wife. I guess Ed is easy to talk to.
Which also works for the daughters, as he had become somewhat of a mentor and guardian for Katie and Daniela. There's a care and concern that extends beyond the ring. Plus, Katie is one cute kid and her screen time always seems to bring out a positive side in the characters around her.
Johnny, however, refuses to back down and let himself be pushed away. Whether it's because he cares about his brother is still in question. He may have found some reconciliation with Patrick, but it's hard to tell what are his true motives for the end game.
I always knew that beneath Ed's extremely large exterior and fierce eyes was a bomb waiting explode. That fuse was lit during the promotional video shoot, as he angrily barked at everyone and shoved the cameramen around. I half expected him to take a swing. It was a moment where you knew something was going to happen, but not its level or degree.
However, Ed finally erupted after a close quarters interaction. He's always seemed to be at odds with Johnny, but it was his "breakup" with Patrick that sent him over the edge.
Remember those deep long gashes he showed last episode? He has a lot of emotion, and maybe a little bit of crazy, so it wasn't a surprise that these two used their fists instead of their words.
I was not prepared for Johnny to accidentally stab Patrick during that altercation. He may have seriously injured Patrick physically, damaging his chances for the big fight. it was a jaw dropper for sure.
I'll be sad to see Ed leave simply because he's a great character. He's also been the most honest with the people around him. He speaks his mind, even if the words aren't always the most pleasant to hear. It was a refreshing role that breathed extra life into the drama-fueled show. Hopefully, he comes back at some point.
Ultimately, Patrick is at the mercy of the people around him. No matter which path he tries to take, he ends up hurting or disappointing someone. It's a rough road for the boxer, and the path doesn't look like it's going to get any easier.
Sean McKenna was a TV Fanatic Staff Writer. He retired in May of 2017. Follow him on Twitter.