"Daisy" headlined this week's episode of Skins. If viewers learned anything, it was that she's not manipulative or self-centered.
In fact, Daisy spent more time dealing with other people's issues than focusing on her own goals and desires. She had to play a mother to her sister, a devoted and loyal daughter to her father, and a counselor and teacher for her friends. There was hardly any time for her to play the trumpet.
Which, of course, according to her father, was not the right option for her future. His bitterness towards his wife ran deep enough to affect his feelings about his daughter's dreams. He didn't care about rapping or trumpet playing. All he cared about was making money to support his family.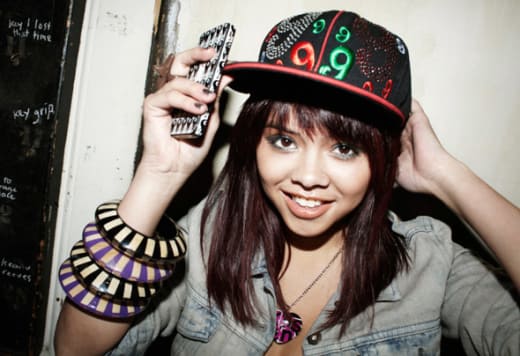 It's noble in a way, except his behavior came across as immature. He was more of a whiner than simply a hard worker. Why keep the piano around if it was just going to make him angry? Grow up and get over it. At least Abbud said it to his face.
It was great that Abbud had screen time to share with Daisy after his episode was more of a debacle than an insight into his character. He certainly had more to do this time, although, it was still primarily sex based.
One of the big moments of the night was when Daisy and Abbud decided to have emotionless sex. Let's be honest, Ashton Kutcher and Natalie Portman tried it, so why did Daisy and Abbud think it would work? Feelings are bound to pop in somewhere, but it was Daisy's desire to break away from her dutiful role of responsibility that allowed her to follow through. Is Abbud over Tea, though?
The final scene of the episode brought Daisy's family closer together, but despite her likability as a character, she felt rather bland. I almost wished that she returned to being a background character and let Abbud take over.
Skins still has a problem with the dialogue and I often feel as if previous plot points are used when needed and dropped when a new episode airs. Even a character like Tony's sister, Eura, appears and disappears at random times. What's her point? Will she ever speak?
The rest of the cast seemed to have improved over the course of the episodes. Tony appeared more relaxed in his delivery as the quips rolled of his tongue. The actors are finding their grooves.
Overall, a mediocre episode, but it was definitely an improvement from the start of the season. Bit by bit, the characters have grown on me, but as the finale draws near, will I care enough to want to see them return?
Sean McKenna was a TV Fanatic Staff Writer. He retired in May of 2017. Follow him on Twitter.