The Bachelor's yearly filler episode was actually decent by its standards.
We just don't need two hours of this nonsense, nor does it make any sense that the two women remaining on the show, the ones everyone cares about play, no role, while people we've never heard of (and we WATCH the show, remember) get one-on-one time with Chris.
But there were fireworks this year on the "Women Tell All" special ...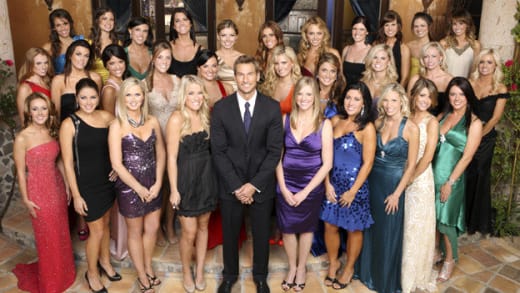 Many of these women returned last night. You probably don't remember them.
Let's recap some of The Bachelor: Women Tell All highlights here:
Deleted scenes! Many of which were actually pretty funny!
A shameless plug for Bachelor Pad 2. Eh, we'll watch that.
Ashley Spivey. A little pathetic, yes, but how adorable is she?
Ashley Hebert's makeover. Not a big fan. Just too over the top.
Michelle Money's crocodile tears. She's an actress, remember.
Stacey the bartender crossing the line and berating Michelle long after she got the point, and even accusing her of being a bad mom, to which Chris Harrison had to intervene, telling her to cool it. Man, these girls can get so catty and jealous.
In the end, you could have missed this riveting two hours of TV and been completely fine going about your life, but as Women Tell All specials go, we've seen worse.
The only drawbacks, as we said above, is that it could be condensed into an hour two remaining women play no role, and The Bachelor himself is a complete stiff.
The last item is more a commentary on Brad Womack and not the structure of the show, however. At least Chris Harrison more than made up for him. So cool.
Steve Marsi is the Managing Editor of TV Fanatic. Follow him on Google+ or email him here.