It was Mr. Greene... in the penthouse... with his hands!
No. It was really the bodyguard, but I couldn't help but think of Clue the entire episode. I kept wondering when Professor Plum was going to get on the stand and testify.
"Nevada v. Greene" was a solid episode that combined humor, drama, and a steady pace.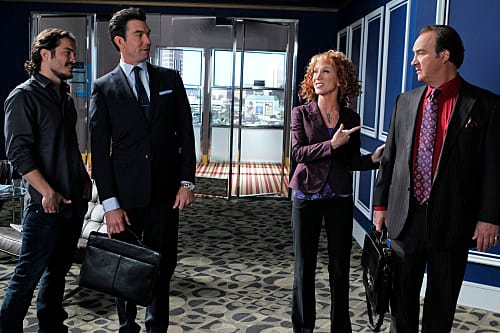 At the outset, the introductory scene was similar to that of a typical CSI episode: the party, the carefree guests, the fancy shot sequence, and then a fade to morning to reveal a dead body. If only Nick or Pete had sunglasses to whip off before they spoke a clever line.
What worked, and offered a variation of the standard format of the show, was allowing Nick and Pete to act as detectives. No one, not even Greene, knew the identity of the killer. It enabled the audience to follow along and learn the clues as the lawyers gained information.
Plus, rather than utilize courtroom theatrics to win the case, Nick uncovered the final piece of the mystery during a deposition. It was a different ending with the same victorious result. There was still satisfaction in watching Nick question the bodyguard, without having to see closing remarks or a jury member stand up to read the final verdict.
Another fresh approach was the mention of televising the court case. A reference to Court TV, no doubt, it could have been a chance to offer scenes that involved its production. If anything, there could have been a moment with Nick and Pete on camera. Sure, the broadcast popped up every now and again, but it ultimately felt more like a background tool.
As for the smaller profile case, Lisa took the unsupervised reigns to defend a comedian who used an audience member as the brunt of some jokes. Who better than Kathy Griffin to portray the fictional character version of herself?
She was an amusing client, but I wish Griffin had more screen time with Nick and Pete. She did have one moment in the office where she dished out jabs, but there wasn't any return fire. There could have been some great back and forth banter between the three. I did understand that any more time with her character would have slowed down the major case of the episode.
The final scene at the penthouse of the hotel was a great way to wrap everything up. It brought all of the characters together, not just Nick and Pete, to celebrate their victory. This is a group that enjoys each other's company even after the job is done. Watching Nick and Pete fly into the pool was a priceless way to conclude the episode. I wonder how many more trials the two are going to bet on?
Sean McKenna was a TV Fanatic Staff Writer. He retired in May of 2017. Follow him on Twitter.