V Review: "Uneasy Lies the Head"
at . Comments
Erica Evans proved to be the leader that the Fifth Column needed on this week's episode, "Uneasy Lies the Head."
In order to stop Anna from moving forward with her plan, Erica infected a bunch of humans. She knew that there was no guarantee of what the virus could do, but she moved forward anyway.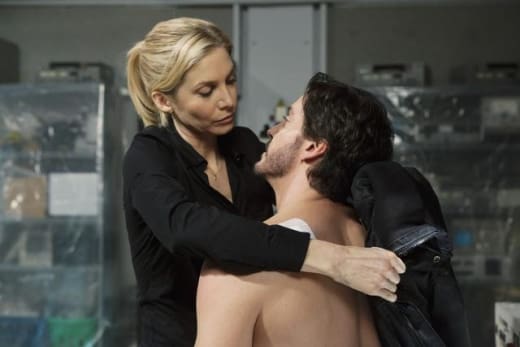 Not many people could pull off the attack she did without feeling any remorse. And from the looks of it, Jack wasn't too pleased with her actions.
After Erica took an extreme chance by double tapping the security guard and then distinctly lying about the entire operation, I doubt Jack will ever look at her the same again. Might this mean Jack is opting out of the Fifth Column? Going forward, how will he be able to be okay with innocents loosing their lives because of their actions?
I am still unsure how I feel about Diana and whether or not the Fifth Column could really trust her. She claims to be against Anna, but does that really mean she is on the human race's side?
It was also rather shocking to find out that Marcus is on Diana's side. Having Marcus be Dianna's biggest ally only worries me that whatever she's planning isn't any better than her daughter's scheme.
Since last year, Marcus has been Anna's right hand man. Killing any Visitor that may be a traitor or show feelings. Now, we learn that he has stronger ties to Diana. Does this mean that he believes in human emotion? Now that he knows the truth about what happened to Dianna, which side will Marcus choose?
Lisa proved herself to be a good ally by helping Ryan escape. Ryan promised his daughter that he would be back for her, but when Anna gets word that Ryan is gone, why wouldn't she use her powers to cause his child pain again?
Kyle admitted that the Visitors killed someone he loved to Erica. This scene either proved that Kyle is a great liar or he truly believed that his wife was killed. I like Kyle, but I am still not sure if I fully trust him. He was the reason why Erica's ex-husband died, wasn't he?
Was I the only one shocked to see Kyle at Erica's door at the end of the episode? We all knew something was going to go down when he pulled out the bottle of liquor. What I wasn't expecting was how hot the scene would be. This was primarily due to their ridiculously in shape bodies.
I am glad the writers finally put in a love story for Erica, but I'd still like to see something go down with her and Jack.
The episode ends with Tyler getting the first dose of human DNA from Anna. This serum is imperative to Ana's plans to impregnate and rule the human race. Since this week's operation failed, I can't wait to see how the Fifth Column plans to stop Anna and her plans to move forward next week.
What did everyone else think?