What "Perverse Secret" Will Be Revealed on Pretty Little Liars?

TV Fanatic Staff at .
What is ahead on this Monday's season finale of Pretty Little Liars?
A pair of major cliffhangers, Torrey DeVitto told us; and many revealing scenes, as teased in these clips. What else can you preview for us, Troian Bellisario?
"You'll see a secret come out about someone in the town that's truly perverse," the actress said to Entertainment Weekly.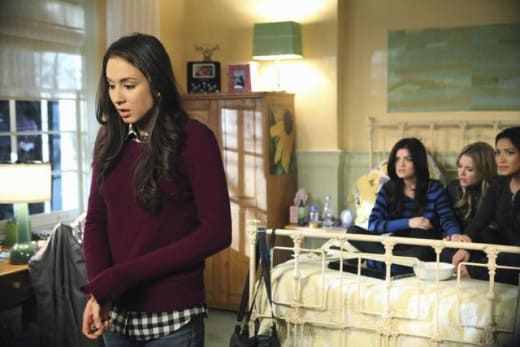 While we don't expect to learn the identity of A, Bellisario offers up this nugget to fans:
"The girls are pretty much set on who A is in the last episode because the girls have a conversation with the person we think is A. But the aim is that we're sort of shaking hands with the devil. We're playing with this person to try to find out what happened with Ali and what's going to happen in our future. But the girls have been wrong in the past."