It's looking increasingly likely that someone on Bones is going to die.
This development has been hinted for months, and was foreshadowed more than ever in last week's episode. The sniper, Jacob Broadsky, is not going down quietly - and before his story concludes this spring, will claim the life of someone we know.
But who's it going to be?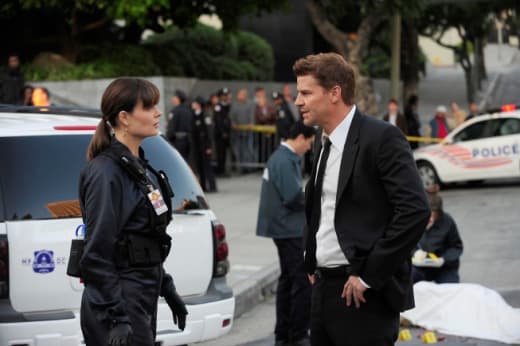 Will someone close to Brennan and Booth breathe their last?
Says executive producer Stephen Nathan to TV Line:
"Our people work in a very dangerous and risky job," Nathan says, ominously. "One of them will realize the extent of that danger. And it will be shocking."
It sounds like the sniper story may serve as a means of bringing B-squared together, but at the same time, it could also tear the Jeffersonian team apart.
Gulp. One early theory - that Hannah would be felled by the sniper - is off the table after her breakup with Booth. But what about Daisy? Or someone even bigger?
Share your comments and theories here.
Steve Marsi is the Managing Editor of TV Fanatic. Follow him on Google+ or email him here.