The long wait is over.  Tracy Jordan is back, and not just any Tracy Jordan, but the wild and crazy Tracy that will expose himself to Elmo and visit O.J. in jail... again.
Unfortunately for us, "I Heart Connecticut" was mainly about Liz and Kenneth's adventure in finding Tracy rather than the return of Tracy himself.
And at the end of the day, this was an average episode of 30 Rock.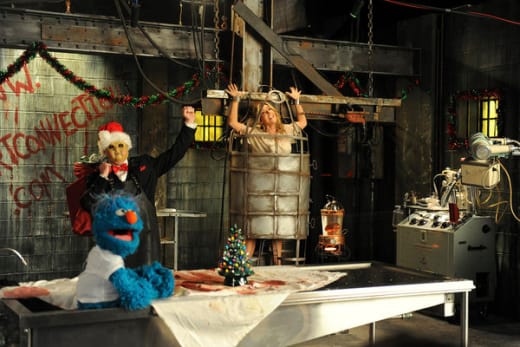 That is not a knock on the show by any means.  Tina Fey and company have made a strong comeback this season, but this one just didn't have me jumping out of my seat.
There were plenty of laughs, my favorite being Grizz and Dot Com's candy problems, but there were also some that missed. The story line referencing the episode's title had Jack and Jenna off in CT turning a soft core porn thriller into a family friendly tourism movie, and created little to no laughs.
Rob Riggle stopped by to guest star as Reggie, and while big isn't usually the type of humor that works on
30 Rock
, it seemed to be working wonders for Reggie.  Every time he blurted out one of his "I boned your wife" jokes, his pals cracked up.  Others laughing at obvious comedy is ironically funny, so that ended up working in a weird way.
While "I Heart Connecticut" wasn't a complete miss, I'm definitely looking forward to more Tracy Jordan as we come down the home stretch of 30 Rock's fifth season.  
Was it as good for you as it was average for me?  Sound off in the comments after you check out some of this week's best 30 Rock quotes:
Liz: Kenneth and I had to spend the rest of the afternoon trying to think like Tracy. I ended up eating a swordfish dinner at a strip club and Kenneth grabbed a cop's gun and shot a blimp. | permalink
Pete: Take out from Hooters!
Frank: That makes no sense.
Pete: We'll know they touched it! | permalink
Dot Com: You think we don't want him back? Do you know how much our cobra payments are? And he's the only one who knows the combination to the candy safe.
Grizz: The worst part is being able to see the candy. | permalink
Jack: We produce more failed pilots than the French Air Force. | permalink
Jenna: Jack, can we talk, one ten to another?
Jack: I'm an eleven, but continue. | permalink
Dan Forcella is a TV Fanatic Staff Writer. Follow him on Twitter.