We don't want to get our hopes up here, but the title of the upcoming Bones season finale might be a tease of something we've been waiting almost six seasons for.
Okay, our hopes are totally up. The episode is called "The Change in the Game."
How can that title now mean what we think it means? Executive producer Stephen Nathan won't say. But he did sort of maybe kind of insinuate what we want to hear: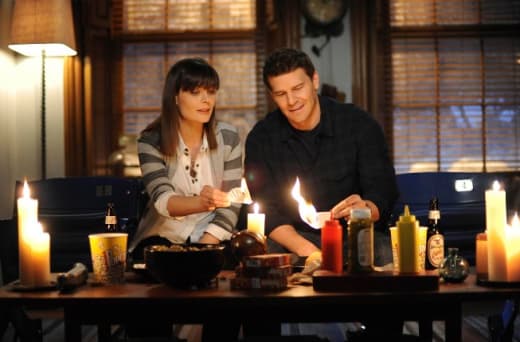 "Although the 'game' in the episode is bowling, that's not the only game that will be changed," Nathan said. Good enough for us. Booth and Brennan are hooking up!
We strongly believe that, at least. Back in January, series creator Hart Hanson said the #1 topic of conversation in the show's writers' room was whether to go there.
"What happens [as we wrap] between Booth and Brennan is the subject of a spirited and wide-ranging debate - and that's the honest-to-God truth," he said then.
In the March 17 episode, the star-crossed tandem each wrote down a date they think they may be ready to make a go of a relationship, then set it ablaze for luck.
May 19, 2011. Think that's the date they both picked. We can feel it.
Steve Marsi is the Managing Editor of TV Fanatic. Follow him on Google+ or email him here.