Brothers & Sisters Review: So Many Paternity Mysteries!
Steve Marsi at .
The Walker family has more secrets than the CIA. On Sunday's Brothers & Sisters, Brody and Michelle contributed new paternity mysteries to the ever-evolving Walker lore.
Beau Bridges' Brody is smitten with Nora. That's so great, except on B&S, it's never that simple. Cue Justin catching Brody sweating in the kitchen. Like, really sweating.
While Brody woos Nora and invites her to join him as he manages a baseball team in Fresno, Justin's paramedic partner hacks a computer to peep Brody's medical records.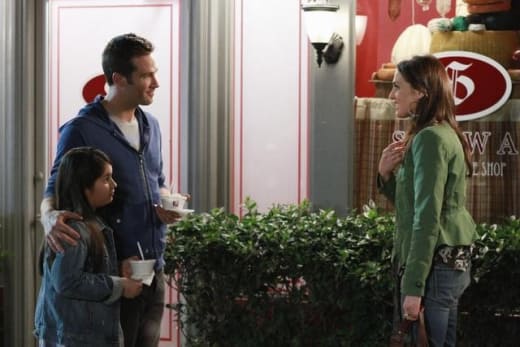 It turns out Brody's got a clean bill of health, but ASTOUNDINGLY, Justin uncovers an even bigger secret. Brody totally lied about the possibility that he could be Sarah's dad.
I've always liked this show and its characters, but at a certain point it gets hard to take paternity mysteries seriously. The first time, sure. The second? Eh. The THIRD?
Justin wants Brody to tell his mom the truth, but he's afraid of what that will do to the relationship. Meanwhile, Nora says she'll go to Fresno with Brody. The plot thickens!
In the end, you knew Nora wasn't going to Fresno and you knew Beau Bridges wasn't staying put. So this gave Brody the out that he needs, and he leaves as she sleeps.
Sarah is better off thinking William is her father, he believes, and even if Brody's departure will crush Nora, she has her family to get her through. A little disappointing.
In other questionable paternity news, Scotty runs into Michelle on the street. It's strange to see Roxy Olin back after her mom, Patricia Wettig, left the show this year.
Wouldn't you know it, she's very scattered and reluctant to talk! Scotty worries that she blames herself for the miscarriage, but clearly it's something else eating her.
Olivia overhears and has serious concerns, but those are quickly assuaged compared to what they think is up with Michelle, and glean through trademark sleuthing.
Tracking her down at the airport, Kevin and Scotty are halted as they try to stop Michelle, holding a baby in her arms as she disappears out of sight. Such melodrama!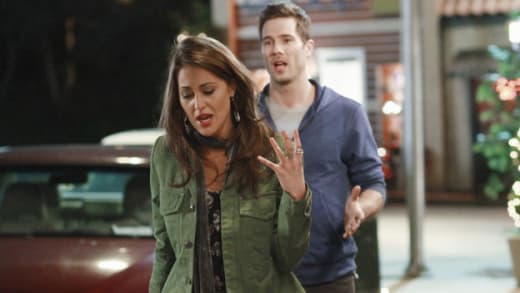 Do we think Michelle really had their baby after all and kept it for herself? That's the obvious implication here, and a very predictable one as soon as she reappeared.
Once again, Brothers & Sisters goes back to the well of the child whose lineage has yet to be established. This could go in a number of directions, but just feels forced.
Meanwhile, Sarah is going crazy at the thought of unloading her house in just one week, and completely rearranges Luc's art studio. That's just the tip of the iceberg.
Despite the success of his art show, Luc is upset because Sarah put the house on the market without bothering to mention it. It's his home too, and he's totally right.
For now, the sale is on hold. At least these two seem to connect and communicate well despite ups and downs and the obvious obstacles a young relationship faces.
Next week, Justin keeps the closely guarded secret about Sarah, while Scotty makes a shocking discovery that will bring a new life into the Walker family fold.
Thoughts? Too much paternity mystery drama or just what the doctor ordered?
Steve Marsi is the Managing Editor of TV Fanatic. Follow him on Google+ or email him here.