If I could bottle up the feeling I get when I watch Cougar Town and sell it on the street I'd either become a millionaire, or get arrested for selling an extremely potent narcotic.
Maybe it's the fact that I'm still riding the high from Monday's uber-excellent Penny Can party, but "Baby's a Rock 'N' Roller" had me at "Hey Sexy."
Add the self-esteem test to the overflowing arsenal of awesome running gags we're sure to see reappear… no doubt the next time Grayson catches himself in a mirror again.
Haven't I said before how much I love the inside joke nature of this show?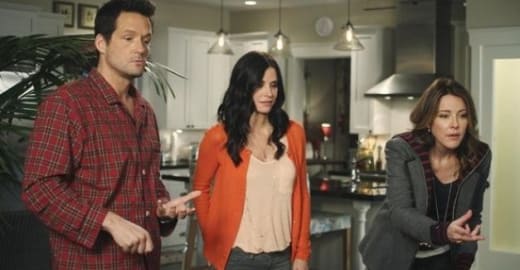 While I didn't laugh out loud quite as hard as I did Monday, there was still so much to keep my goofy grin plastered on for almost the entire twenty-two minutes, from Bobby falling asleep in the golf cart (and Travis' subsequently follow up) to Ellie's golden seven minutes a day when she's fun to be around ("You never know when they're coming!") to the different ways each character wakes up (Laurie's fist-swinging and Jules' question-storms were my favorites).
It was a funny reference to viewer complaints that they never see Ellie's baby, Stan, to have the gang all feign surprise that he even exists. She had a point though. We don't see Ellie's entire day, the bulk of which is spent having a crap ton of Mommy-time with Stan! We only see the three hours she spends with her vino peeps. So take a bite out of that, complaining viewers, along with a nice glass of 1985 SUCK IT.
Watching Jules and Grayson babysit Stan had its amusing moments, such as the locked pantry incident, but it just made me glad that they are never going to have one of their own, despite Grayson's admission at the end that he can't wait to have a child. I think he should just offer to babysit Stan every now and then to curb the feeling, don't you? Or he can just be happy with the dog Jules plans to buy him when they get married.
Aw, she wants to marry him!
As much as I enjoyed Andy playing at first wingman ("Butt worship is contagious!"), then fatherly advisor to Laurie, I have to admit I was a little disheartened to see her revert back to the casual lifestyle she had before Smith, even if I did know it was coming. I'd like to see Laurie embrace her adulthood and find someone special. She deserves it.
Travis really is a good son, despite his nocturnal predilections with laundry baskets, as evidenced by him being there when his dad needed him, disregarding Bobby's objections. Just proves the apple doesn't fall far from the tree, since both Bobby and Jules would do anything in the world for Travis.
This might sound a little odd, but I have a slight tendency to lose where I am in the story because the top notch one-liners and banter are flying at me so rapidly, but that's probably more my issue. When I hear Cougar Town quotes as great as these, I often pause and reflect on the sheer genius behind them, and suddenly realize I've missed a few killer gems.
All I can say is thank goodness for Live DVR viewing!
Other moments I loved:
Laurie referring to Andy as her dad to the guy at the coffee bar
Bobby's faulty reflective contraption to wake himself up, the snooze-burger and the snooze-sauce
"Pounding Grape"
The title-sampler opening credits (sticking with it)
Stan's allergy list including Telemundo
Jules' 911 phone call
The acoustic change between the club and wine bar
What did you enjoy most about "Baby's a Rock 'N' Roller?" Tell us in the comments below.
Jeffrey Kirkpatrick is a TV Fanatic Staff Writer. Follow him on Twitter.