Desperate Housewives Review: "Moments in the Woods"

Christina Tran at .
Finally! Over the last few weeks, I feel like I haven't been able to hold my breath in hopes for a new episode of Desperate Housewives.
Well, luckily, the Wisteria ladies brought their A-game or - maybe it's D-game (D for Drama/Desperate, of course) in "Moments in the Woods."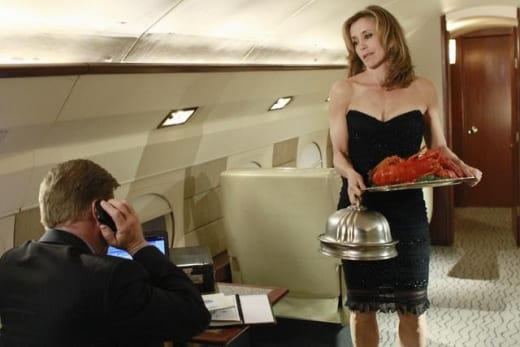 I was glad to see Susan finally learning to live a little and letting her lucky streak ride.
It was definitely a touching moment when Roy reminded Susan to stop asking questions and to simply enjoy life.  Maybe she, Mike, and M.J. can use the winnings and move back home to where they belong on Wisteria Lane.
Were you a little jealous when Tom brought home his $100,000 sign-on bonus? I sure was. Tom was clearly kicking butt in his new position, and it was nice to see that Lynette didn't make a big deal about his busy schedule.
By the way, didn't Lynette look lovely in her new dress and hairdo?
Moreover, Carlos was right to still be upset with Bree about Andrew's lying about his mother's death. I just think it's going to be next to impossible for him to stop Gaby and Bree from being friends. It will take time for Carlos to forgive, but Bree needs to give him the time.    
As for Paul and Felicia, they both played off of one another well and provided some comic relief on this installment. At the same time, both characters brought on the creepy factor throughout the entire episode.
Felicia seemed to be the winner, though, as she convincingly tricked Paul in the end into thinking the hatchet was buried between them. I seriously felt chills up my spine when Felicia was talking to "Beth." She is CRAZY!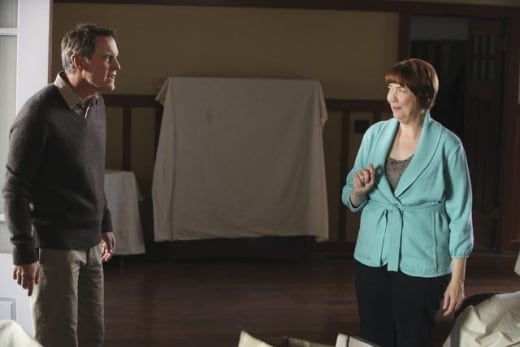 I've mentioned it before, and I'll ask again: When is Renee going to get a storyline of her own? Sure, she throws great parties and is a fun shopping companion, but I still feel like Renee has a story of her own to tell.
I can't say that I totally loved the hour, though. The season is coming to a close and I'm hoping there are still some surprising game-changers in store.
Do you agree? Do you really think that Carlos will be able to keep Gaby and Bree from being friends? Also, what do you think Felicia has in store for Paul? Discuss!