Friday Night Lights Season Premiere Review: "Expectations"
Leigh Raines at .
Even an episode that has all of the excitement of new beginnings still managed to tug at my heartstrings. In "Expectations" it's the end of the old guard as Landry and Julie head off to college. Still, something feels different. There's a sense of heart we haven't really felt since season one.
The birth of a new bond. One about the underdogs, not the Varsity Blues perpetual winners (though the Panthers got their butts whooped by the Lions last season).
I won't lie, last season as Vince, Luke and co were being introduced onto the show, I was not feeling it. But I've since softened and grown to love these characters in a different way. After all, they're being molded by Coach Taylor and we know he's capable of just about anything!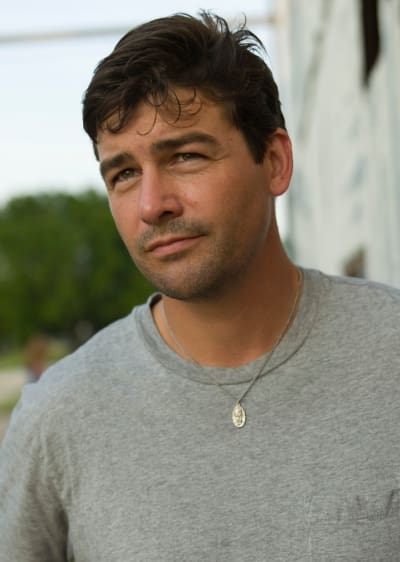 As Slammin' Sammy Meade voiced, there's nothing quite like summer in Texas. Forget the scorching temperatures outside, the Lions brought the heat to their first game against the reigning Texas state champions. The Vince/Luke bromance is paying off as the team comes onto the field more prepared than ever.
Then there's the addition of hippie turned football stud Hastings Ruckle played by True Blood's Grey Damon. When he tells Coach he can jump higher than one of the opponents, he becomes the key to defeating the other team's offense. Then again, didn't you see him play down in Bon Temps? Oh well, he was hooked on all of the V at the time so...
As for our other characters, I loved seeing Grandma Saracen pop up.
She has Crucifictorious on her mp3 player (she might be the only one) and gives Landry some encouraging words. Landry and Julie are musing about leaving Dillon behind and Julie gives him the best gift you can give an 18 year old boy - a trip to The Landing Strip.
Even though Landry doesn't quite realize that the strippers are paid to like you, Julie still gives him the epic night he always imagined.
A major gripe people had last season and throughout the run of FNL, was the tendency for there to be plot-holes and unanswered questions. As we kick off the final season (deep breath, grab your tissues) I think all of the chess pieces are finally in place.
With the Lions poised to take over the high school football scene, Becky moving in with the Riggins clan, Tami starting off at East Dillon, and Tim still in jail, which I'm still too emotional to discuss, this season is shaping up to have a lot of drama.
I can only hope we'll get to see some of our old favorites again. After all, it's Texas forever right?