Friday Night Lights Review: "On the Outside Looking In"
Leigh Raines at .
It's quite possible that one of Buddy Garrity's favorite activities is shaking up his friend Coach Taylor. In "On the Outside Looking In" we see Buddy pull aside Eric for one of his "chats" this time concerning the athletic administration. Apparently some people thought Luke made an illegal hit in last week's winning game, but we know Coach doesn't back down easily.
The boys were flying high off of last week's win, but there were a few things threatening to take the wind out of their sails. First is the big ranking article about the top teams to look out for in high school football. The guys were obsessing over it as it would've been one of their first big acts of recognition as a good team.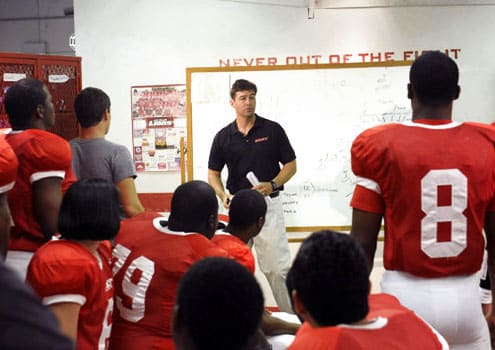 It's understandable that after being 2 and 8 last season, they wouldn't make the list, but I still felt for the Lions as you could see the disappointment on their faces. It got to the point that even Billy thought it was affecting their game. And if Billy Riggins thinks you are acting lazy and unfocused, I'd be worried.
As for the athletic administration, I don't know much about safety plays but I do know that Coach Taylor is one of the most honest characters on television. The only source of foul play that was really going on was the fact that people were whining that a team like the Lions beat a much more talented team. Even though Coach acts skeptical, I side with Vince that people are out to get them. You could even smell the tension when Coach went to visit old Mac and the Panthers.
Off of the field it's rally girl time! The redhead Maura was spelling out all sorts of trouble. Jess is a pretty patient girl when it comes to Vince, but any slut who puts their underwear in another girl's boyfriend's locker, does deserve to get slapped. Granted, we all know Jess is a lot classier and should act as such.
A drunken Luke trading his pig Maribel to get Becky as his rally girl (even though we were supposed to think it was a joke) was more cute than creepy. He has a crush on her, he's just too shy about it. Just like he's too shy to take up his problems with Ruckle when he's sober. His whole drunk tough guy act has already been done and it's been done by the best of them- Mr. Tim Riggins.
I hope we don't see much more temper from Luke in the upcoming weeks, it doesn't suit him well. I also hope that Julie Taylor doesn't go down a bad path with her TA. Does their budding, yet forbidden relationship remind anyone else of "the Swede" from season two? Well don't get too down in the dumps over the rankings and suspension, because Coach Taylor and I both have just one word for you.
State.