Hawaii Five-O Review: "Ma Ke Kahakai"
at . Comments
Generally, I've found that Hawaii Five-O does better taking things a single plot at a time, so I was surprised this episode held together as well as it did considering everything going on.
There was just the right mix of action, mystery, and character development in "Ma Ke Kahakai" to keep me from wishing one bit of plot was focused on over another.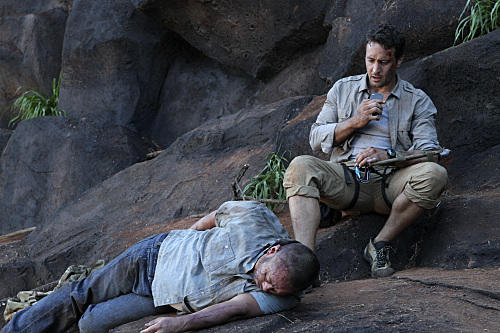 McGarrett broke his arm while examining a body he and Danno discovered while hiking. The camaraderie between the two characters is certainly growing given that I can hardly imagine Danno deciding to go on a hike with anyone else.
Even in stressful situation like this McGarrett and Danno worked as a team to solve their predicament. Also, Danno miming a little heart as McGarrett was airlifted off the mountain was precious.
I also learned that it's always a good idea to carry duct tape wherever one happens to go. It honestly wasn't a hiking supply I have ever considered before until I saw McGarrett use it to help set his arm.
The scenes between Chin Ho and Kono were quite touching and intense. Kono's naive view of what a good cop is supposed to do, clashed against Chin's own sense of right and wrong.
For Chin it's obvious that despite the law the right thing to do is to help his family and friends. As he says, "Sometimes things aren't so simple."
I'm not sure anyone watching ever doubted Chin's innocence surrounding his dismissal from the H.P.D., but it's always nice to have confirmation. Perhaps next on Chin's list of truths to reveal to Kono will be the real reason he and his fiance split up.
Morrimoto showing up for a brief guest appearance as himself was fun, but sort of only added to my own weird internal conspiracy theory between Iron Chef America and Hawaii Five-O. Somewhere out there a fan fiction writer is having a field day mashing the Chairman and Wo Fat together. Maybe Wo Fat launders all his money through Kitchen Stadium.
The action in this episode wasn't anything monumental, but it was all fun, and appropriate. Nothing was dragged out too far, and I had fears after seeing the preview that most of the episode was going to focus on McGarrett unconscious on a cliff.
McGarrett mentioned at the very beginning of the episode that another piece of missing evidence from his father's tool box was delivered to him. I hope the mention will be expanded on in another episode soon. I'm a little unsure if it's actually Wo Fat handing back the evidence, but it should be interesting to see how that piece of the puzzle plays out.