Oh Hellcats, it is good to have you back; even if it means you are dressed up as zombies. 
Hellcats returned from a six week hiatus with "Woke Up Dead". The latest installment featured some development in Marti's understanding of her father, Alice being mischievous, and of course, Dan's zombie flick. Let's dig in.
Marti & Her Family Drama. Turns out that Marti's dad, Rex, didn't die like Wanda had said he did. I can't say I blame Wanda for what she did; she was trying to protect her daughter from a dangerous situation. It's not her fault Rex never came back home.
Dan + Hellcats = Movie Mayhem. With the squad helping out Dan on his horror film, they managed to surprise with something that wasn't completely horrible. I definitely had reservations about this episode, thinking that it was going to be based on their time filming. I am so glad it wasn't. Kudos to the makeup department for making Dan's zombie squad come to life.
Alice The Investigator.
So now Alice is being even more shady to help the reporter get stories. Although this plot could eventually become interesting, she deserves a better arc than this.
Best Part of the Night! Initially, I was with many of you readers in hoping that Marti and Dan would become a couple. Clearly, this isn't going to happen anytime soon. Instead we get Dan and Marti as best friends, and that is perfectly ok with me. These two are the new Lucas and Haley and it is genuine and awesome. Marti crying into Dan's arms about her dead beat dad tugged on my heart strings in just the right way.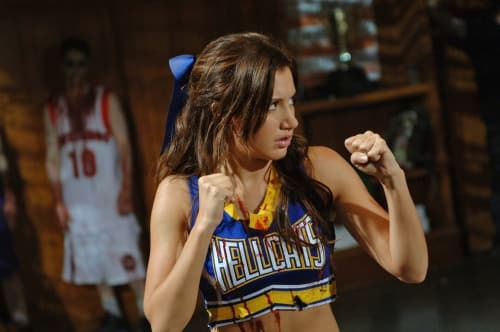 I want to really like this show. it has everything a good CW guilty pleasure has - intertwined relationships, family drama, and beautiful, young people. The early episodes managed to stumble into a satisfying series that was light hearted fun, but now they are approaching the heavy issues. Hopefully the writers are able to find a balance between the serious drama and the cheery fun we have been having.
Side notes...
AJ Michalka made another appearance as Deirdre. What role is she going to play in the search for her real life sister's dad? Seemed a little shady to me.
We are now in the backend of episodes for the freshman series. Let's hope they bring some drama and cheerleading action to gear up for Nationals.
Need more Red & Vanessa. Period.
Dan's movie...a little absurd, but hey, it is the CW.
What did you think, TV Fanatics? Did you enjoy the series first installment back from hiatus? What is in store for our favorite cheerleaders. Sound off below.