While the overarching story of Carol and Black Pike versus Mags and the Bennetts came to a close, "Brother's Keeper" had so much more going on it, that the momentous meeting between Carol, Mags, and Boyd seems like an afterthought at this point.
That meeting of the minds was indeed fantastic though, as Mags outwit Carol and the fine people of black pike out of a ton more money than anyone could have ever thought. Because Mags knew all along that she had the upper hand, she continued to be calm, cool, and collected.
As always, Margo Martindale played the scene masterfully.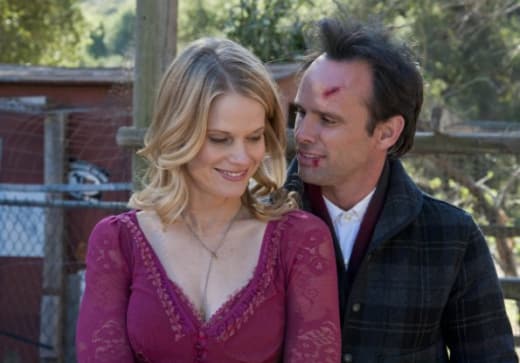 So that is probably it for our new friend Carol Johnson, as she heads off to the next mountain with her tail between her legs. Luckily, she did get a big smooch out of Raylan Givens, even if that was all the U.S. Marshal would give her.
And how about Boyd? That was his big plan? To double-cross Carol so that he could get on Mags's good side? Well now apparently he has the freedom to do whatever he wants in the county - well other than getting into the weed game. Does this complete his turn back to the dark side? Or does he have something else up his sleeve?
Also a highlight of that meeting was what went down just outside of it. It wasn't the showdown between Raylan and Dickie Bennett that we've been waiting for, but the stare down these old foes put upon each other did help raise the tension for the rest of the episode.  
Unlike Raylan and Boyd, who I feel have some sort of a mutual respect for each other, Raylan just seems to pity Dickie as an enemy.  
You had to feel bad for the limping fella when Raylan shot him straight about Mags not wanting Dickie in on the important meeting.
What was so great about "Brother's Keeper" was how high the Bennetts rose before having everying crash down around them immediately afterward. The Bennetts, and Mags in particular, were on cloud nine after receiving all that new money and power in the Black Pike deal.  She couldn't have been more happy or proud of herself in that moment.  
And then with the death of Coover, and the strangely more hurtful loss of Loretta, Mags's whole world kind of fell apart. We know that she never really felt all that much love towards her baby Coover, but how can she seemingly be more upset that she's not going to see Loretta again? She is a pretty sick woman. It will be interesting to see how and if the Bennetts recover from this, or if they fall into the background for a while.
And it was the final third of "Brother's Keeper" that really lived up to the episode's title, as many were attempting to protect those they loved. Whether it was Dickie trying as hard as he could to literally "brother-keeper" his little bro Coover from doing something he'd regret, or Raylan feeling responsible for the livlihood of Loretta McCreedy, the men of Justified were set on saving the day. Unfortunately for Dickie, he failed.  He was no competition for Coover's paws, as the little brother almost strangled Dickie to death before taking Loretta to see her dead daddy.
Raylan, on the other hand, did save the day. After dropping off Carol at the nearest gas station like she's some floozy, he doubled back to get the truth out of Dickie before finding Coover with Loretta out by the mine. At the last second the deputy got the job done and put an end to the big baffoon that is Coover Bennett.
There was a whole lot of feeling of finality at the end of this one, as the deal with Black Pike was done, Loretta was saved and sent to child services, and the Bennetts seemed to be in remission for a while.  If this gives us a bit of a break from all the excitement for an episode or two, I'm fine with that. Give me a couple of stand alone eps before heading down the final stretch.
What did you think of this episode of Justified? Comment below!
Dan Forcella is a TV Fanatic Staff Writer. Follow him on Twitter.