Baby Lydia has been brought home safe and sound, but between the twists and turns of the Kellerman plot and the possibility that Brooke and Julian might leave for New York, "Where Not To Look For Freedom" had plenty of excitement to follow up the double baby episode from a week ago.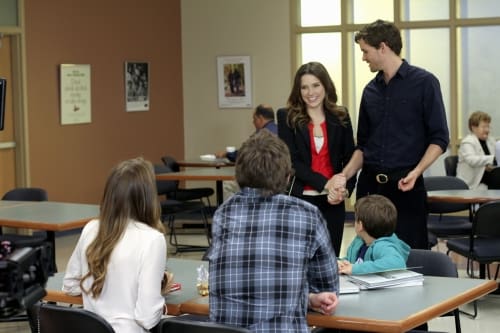 Thanks to the month and a half hiatus, and "Quiet Little Voices" being devoted solely to birthing and flashbacks, it had been quite a while since they teased the fact that Ian Kellerman was the jerk that smashed into Jamie and Brooke on the bridge during the storm.
I wrote in my review of "The Smoker You Drink, The Player You Get":
So Ian Kellerman was the driver of the car that slammed into Jamie and the gang, shoving them off the bridge and into the river.  This dude is obviously a jerk, and once Nathan puts two and two together, he will no doubt want to void that contract.
I thought it was obvious to everyone when both the audience and Nathan saw the wagon and the alcohol inside of it back at the end of "The Smoker You Drink, The Player You Get," so when he assumed it was August Kellerman right off the bat I was thrown through a bit of a loop.  I kept wondering whether
One Tree Hill
going to defy all the logic that was telling us it was indeed Ian.
Fortunately, it did end up being Ian. Unfortunately, August lost his job, Nathan looked like an idiot in the eyes of Professor Kellerman and me, and now Nathan and Clay represent the dude that almost killed Jamie Lucas Scott. Nathan has to fire this guy immediately, right?
Also keeping everyone on their toes was the idea that Brooke and Julian might leave Tree Hill for the less green pastures of New York City. There is no way they're leaving, unless the show gets canceled very shortly and the writers can adjust the finale so that Julian and Brooke have a happily ever after in NYC.
Sophia Bush is fantastic at the lip quivering/almost crying bit, so I will never complain too much about it, but I like most viewers am so sick of Brooke being sad.  We all thought this baby would once and for all make her happy Brooke again.  On the other hand, if she had a baby, it would have just been too close to what Haley is all about. Hales is the motherly figure on One Tree Hill, and I don't know how Brooke intruding on that would have worked out.
Just like Brooke and Julian, the fate of the iconic River Court also hangs in the balance after Nathan discovered a sign for River Condos down at the court.  They had to go here at some point, but forced nostalgia will be through the roof the further this story goes along.  I mean did anyone watching not say out loud "I bet Millie will do a story on the River Court" immediately before it was stated on screen?  Probably not.
If the River Court does get tossed aside, it will be a sad day, but I definitely seeing this gang coming together to save the day. You know, just like you would see in any kids movie! Between that, Brooke possibly leaving town, and what Nathan will do about Ian Kellerman, there is a lot to go down as we close in on the end of the season.
Other Thoughts
I don't care if you do think that your professor did hit and run on your son, you don't accuse him like that in front of the entire class.  If you're wrong - as Nathan was - you just make yourself look like an idiot.
Loved the theme song during this week's opening credits.  It was performed by Lucero.
Having Quinn be in charge of Tric was the epitome of lazy story telling.  They just needed someone to be running the place so that they could have a couple of musical performances this week.  In no way do I approve of it, but if it leads to that wonderful performance by Jana Kramer, I will not complain one bit.
Hated Mouth's rant as always, but agreed with his complaint about airlines and cell phones.
Nathan's t-shirt was AWESOME!  Instead of the evolution of man, it was the evolution of a man thanks to physical therapy.
I'm looking forward to next week. What did you all think of "Where Not to Look For Freedom?"
Dan Forcella is a TV Fanatic Staff Writer. Follow him on Twitter.