Last week you chose your King. Now it's time to crown his Queen.
After factoring in your suggestions, we present to you ten lovely ladies, each a hot nerd in her own special way. It's up to YOU to decide which is of royal caliber!
So who will it be: A tech savvy super sidekick? A sparkling diva with golden pipes? A perky-preppy college student? A brainy scientist/comic book enthusiast?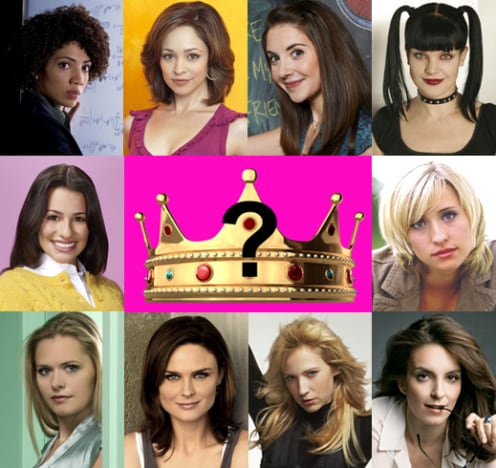 Which of these gorgeous gals spins up your hard drive?
Poll is now closed! Here are the results:
Astrid Farnsworth (Jasika Nicole), Fringe

4.0%

Katie Andrews (Autumn Reeser), No Ordinary Family

5.0%

Annie Edison (Alison Brie), Community

5.0%

Abby Sciuto (Pauley Perrette), NCIS

20.8%

Rachel Berry (Lea Michele), Glee

15.4%

Juliet O'Hara (Maggie Lawson), Psych

5.8%

Temperance "Bones" Brennan (Emily Deschanel), Bones

20.3%

Parker (Beth Riesgraf), Leverage

7.1%

Liz Lemon (Tina Fey), 30Rock

7.0%

Chloe Sullivan (Alison Mack), Smallville

9.8%



Start voting and spread the word! Poll closes at noon EST on Thursday!