Per the usual on The Borgias, we witnessed plenty of crime, passion, and in the case "The Borgias in Love," we saw a couple of crimes of passion.
Sometimes plots on The Borgias move slowly. Take for example the movement of Della Rovere attempting to help others destroy the Borgia Papacy. This time around, however, many things moved rather quickly, specifically the hearts of Cesare and Lucrezia.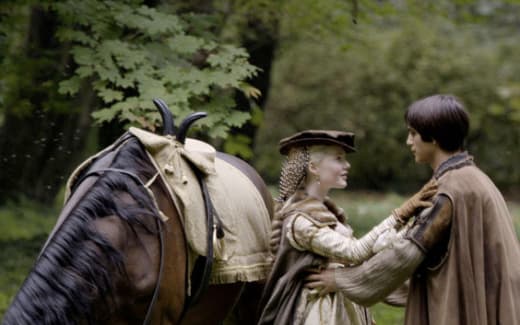 I'm not saying that love at first sight doesn't happen, but both of these characters fell extremely quickly, and for Lucrezia it was the second time in three episodes.
Lucrezia needed some sort of outlet from the horrific conditions she is faced with in her new marriage, but it's honestly like she saw a new puppy and just had to have it.  Fortunately, her new love interest Paolo has a knack for rigging saddles to injure people, because now the rapist Sforza should be out of commission for a while.
And thank God.
I know it's just television, and Holliday Grainger is actually 22 years old in real life, but there are only so many times I can watch a young girl get raped by that disgusting old man. It has become pretty disturbing. Isn't she supposed to be like 14 years old?
Well thankfully Lucrezia has both Paolo and her other servant looking after her in the house of Sforza, because it seems like Rodrigo could care less about his teenage daughter.  The man, who seems to care about very little other than expanding his empire, seemingly has not checked up on the situation one time. Yet another reason why Rodrigo Borgia is a character that is so difficult to get behind.
Just as Lucrezia fell so quickly for Paolo, Cesare has found a similar fate with Ursula from the wedding reception. A man of the cloth to the public, and a playboy from what we saw at the start of the premiere, a deep relationship with someone he hardly knows is not something I expected to see out of Cesare.
But with hardly anything to go off of other than her beauty, Cesare has fallen deeply in love with Ursula. So much, in fact, that he requested Micheletto's help in putting an end to Ursula's husband's life. As much as I love François Arnaud, the scheming, murderous Cesare is a lot more fun to watch than the smitten version of the Cardinal.
While Micheletto is in the topic of discussion, I was glad to see that Cesare was just as upset as I was that Micheletto hasn't proved to be the talent that we thought he was.
After his flawless work in the series premiere, I was expecting this guy to be a killing machine that never made mistakes. What has he accomplished since the first episode?
There were many things about "The Borgias In Love" that did not appeal to me, there were others that were a couple that were quite interesting.
Specifically, I loved Cesare's conversation with Machiavelli.  I look forward to the truth of this quote by Machiavelli to Cesare coming true in the future... "And if these times have made you clever, the coming months may thrust genius upon you."
There is still room to grow with The Borgias, but I am definitely still interested in these characters of Rome. What did you all think of "The Borgias In Love?"
Dan Forcella is a TV Fanatic Staff Writer. Follow him on Twitter.