It was election day on The Good Wife and though the case may have surrounded "Foreign Affairs" the domestic ones were far more interesting.
Alicia got blindsided. Was Wiley just fishing for a reaction when he came to see her?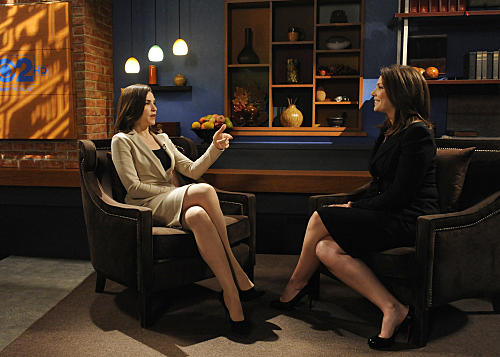 Alicia was sitting there with her glass of wine having a private moment. Friends, family and colleagues were celebrating Peter's win. She had not only survived the eleventh hour television interview, her performance may have won her husband the election. And then with one name, her world crumbled.
If Kalinda had planned on telling her, she waited too long. Kalinda's a smart woman.
She had to know that if this secret was going to come out, odds were it would happen before the election. As the two friends stood by the elevators you could tell that Kalinda wanted to come clean, she just couldn't bring herself to do it.
With Wiley's casually uttered comment about Leela it all disappeared, Alicia's new start with her husband, her new best friend. It was all based on a lie. Alicia walked down that hallway looking as though she'd been sucker punched.  In essence, she had. 
Surprisingly the final scene, although wonderful, wasn't my favorite of the episode. That honor went to Will as he watched Alicia's interview. I was expecting him to view it in disgust or frustration. Instead all I saw on his face was admiration. He's not only attracted to Alicia, he respects her. 
Perhaps as Alicia's world falls apart, Will will take Kalinda's advice and tell her how fantastic he really thinks she is. I'd bet fantastic is the last thing she feels.
Although this episode certainly didn't need a guest star, I couldn't believe they had Fred Thompson play Hugo Chavez's lawyer. I never saw that one coming. Insert crazy dictator here for comic relief.
And enough with the 'in my opinion' judge. The gag went on too long. It's time to let it go.
The only comic relief I needed was in the looks Cary leveled on Kalinda. It was so amusing watching him try and walk the line between friendship and self preservation. "Don't tell her you slept with Peter before you put in a good word for me. OK?" Only Cary could pull that off and still make me like him. 
The highlight of the case for me was America Ferrera as Natalie. She's been a joy to watch and I've loved her awkward but sweet interactions with Eli. I was sorry to see her storyline come to an end.
So how does Alicia pick herself up this time? What's her next move? Does she confront Peter? Call out Kalinda? Or will she take her time and weigh her options? Watching this smart woman figure it out will be fascinating TV. I simply can't wait to find out what comes next.
C. Orlando is a TV Fanatic Staff Writer. Follow her on Twitter.