We already know Glee will cover the much-lampooned Rebecca Black single "Friday" during its prom-themed episode.
But now a Twitter user named Nicole Crowther has revealed a spoiler far more interesting/controversial regarding the upcoming installment.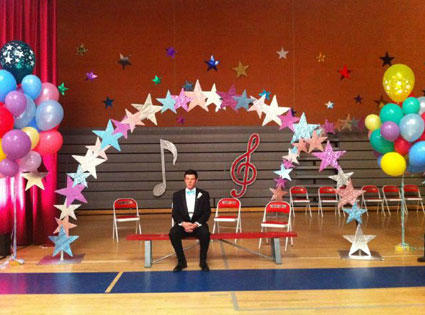 As part of a Q&A session on that social network, Crowther Tweeted the identities of the show's prom king and queen, a message that evoked the following response from producer Brad Falchuk:
"hope you're qualified to do something besides work in entertainment...Who are you to spoil something talented people have spent months to create?"
Crowther proceeded to delete the Tweet and apologize to Falchuk, but the damage has already been done. So, who will receive these honors? Read on to find out.
The spoiler-filled Tweet read: "K is PQ and Ka is PK," which translates to Kurt as the prom queen and, yes, Karofsky as the prom king.
Karofsky has not been featured on the show in months, and I've questioned how the series has portrayed the bullying student as a closeted homosexual. He's expected to announce his sexuality to the world on the Lady Gaga episode by singing "Born This Way."
Can't say I'm too excited to see more of this poorly-portrayed character. How about you?
Matt Richenthal is the Editor in Chief of TV Fanatic. Follow him on Twitter and on Google+.