Talk about creepy.
The murder on this Body of Proof made me shiver. Beethoven's Fur Elise played on the mobile as baby Sophie lay only feet away while her father was viciously murdered. With only shadows and a few drops of blood "All in the Family" painted a brutal scene.
I found so much of this storyline disheartening but still engaging. That the mother saw bloody footprints near her dead husband and immediately assumed  they were her 15 year old son's was sad and frightening.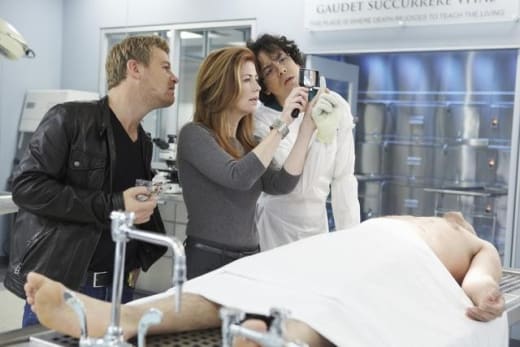 I know father and son fought but what must she think of her son that her first reaction was to suspect him of murder?
Our murder victim had no clue that his attacker was Mike's real father and now poor Sophie will never know the Dad who obviously loved her.
I wanted to smack Megan when she entered the Russell home near the end. What was she thinking? She knew Scanlon had committed the murder and that Jen was acting strangely when she wouldn't let her in. Yet, she went back to find the door open and walked right in. 
Megan's intelligent enough to know that something wasn't right but she's unarmed and untrained to handle the situation. For some reason she seemed incapable of making the smart decision to sit in the car and wait for the real police.
I wished they had delved deeper into Megan's father's death. We now know Megan was young when he died and her mother wasn't around but we know little else. How did he die? Was it foul play, an accident, or natural causes?  It's certainly a turning point for the character and I'd love to know more.
It was nice to see Peter stick up for Megan with Lacy. And snacks for carpool didn't seem like a bad idea but they could have used a couple of healthier options to go with the chocolate.
Curtis and Kate's conversation about who should determine if the boy was a minor was funny but Manny's expression at Curtis' explanation was hysterical.  It was a much needed moment of comic relief in an otherwise heavy episode.
This week's case really grabbed my attention. Add the creepy killer to these engaging characters and this episode was a winner for Body of Proof.
C. Orlando is a TV Fanatic Staff Writer. Follow her on Twitter.