"Broken Home" was a solid outing for Body of Proof. It had an intriguing murder, lots of suspects, and an interesting personal twist for Megan. But as a season finale…. eh.
Maybe it's me but I expect more from a season finale. It doesn't have to be a cliffhanger but I want something that leaves me longing for the next season to begin. 
The death of the promising, young philanthropist had a nice story arc when the cause of death ranged from disease, to suicide, and finally murder.
The poor girl's family was a nightmare.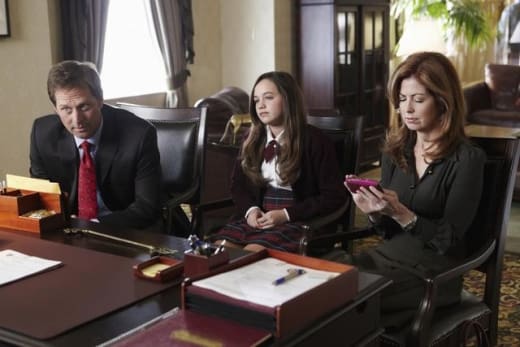 Mom withheld her medication so she'd garner the sympathy of having a sick daughter and then her sister ended up killing her for her inheritance. Only her brother, who came across as a bit of a jerk for most of the episode, actually cared about her. Such a short, sad life.

I generally hate gore and am glad that Body of Proof subjects us to so little of it, yet I found myself fascinated by the autopsy of the girl's neck. Maybe it was the detail of the muscle and the lack of blood but I've never seen such a procedure portrayed with that level of specificity. 
Is there some rule on this show that we can't have both detectives every week? Detective Baker's definitely growing on me but I missed Bud. He and Megan had some great chemistry and I was hoping for more of that by the end of the season.
Megan's discomfort over having her ex date her boss seemed justified to me. I know they've been divorced for five years but it's still an odd position to be in and I understood why she wasn't happy about it. That said, since they're all adults and no one is doing anything wrong, she'll just have to get over it.
On the other side I wondered if Todd really deserved Kate. I like Kate's character very much but as far as I'm concerned the jury is still out on Todd.
Somehow that storyline turned into a great bonding moment for Megan and her daughter. Lacy obviously hoped for a reconciliation between her parents. I liked that Megan was honest with the girl. That simply isn't going to happen. And although Megan didn't hide her discomfort, she told Lacy to treat Kate with respect. I like it when adults actually act like adults.

All in all this was a solid episode but it just didn't live up to my expectations of what a season finale should be. However, I am happy that Body of Proof will be coming back in the fall for a second season so maybe they'll do it better next time around.
C. Orlando is a TV Fanatic Staff Writer. Follow her on Twitter.