"Off The Beaten Path" was one of the most intense episodes of Breakout Kings this season. The anxiety was palpable, as the entire team searched for a violent schizophrenic bent on raping and killing his latest obsession.
Poor Debbie. One minute the woman was planning her wedding and the next some psycho was throwing a bag over her head and dragging her through the woods.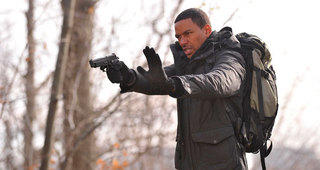 However, I do wish she would have grabbed the knife off of the front seat of the car before she screamed for the park ranger. The guy might have had a chance.
Bennett was one of the scariest escapees so far. Perhaps it's because he was truly psychotic. Hearing voices, talking to people who weren't there, then smiling eerily as Debbie sang her children's song and looking so lost when she didn't know his name. She was his obsession and she never had a clue.
Erica looked truly terrified as Bennett held that huge machete to her throat. He would have slit her from ear to ear if Charlie hadn't put a bullet in his head.
It took me a little while to figure out what Erica's flashbacks were about. Now that the men who killed her father were all dead, it looked like her conscience may finally have kicked in. We'll have to see if that has further consequences for her.
How would Charlie feel if he knew what Julianne and Shea pulled on that attorney? I know he ordered them to get results, but how far did he expect them to go. Shea's tactics certainly pushed passed the boundaries of the law, but what do you expect when you threaten a convict to get a lead?
Elsewhere, Ray played Sinatra in the car the whole ride up. Totally in his character, making Shea absolutely crazy. Very funny.
I didn't really care about the return of Gunderson. I didn't like the character in the pilot and was glad to see him gone. I didn't doubt that if he had the opportunity to take out Charlie in the woods, he probably would have taken it.
At the end, I was pleased that Charlie came clean about the watch. Lying, as Ray had encouraged, just seemed out of character for Charlie. His admission wasn't an apology, but for me it was enough.
If Breakout Kings keeps getting better, then I can't wait to see what the next episode brings.


C. Orlando is a TV Fanatic Staff Writer. Follow her on Twitter.