Brothers & Sisters Season Finale Review: It's Never Too Late ...
Steve Marsi at .
... to be what you might have been. - George Eliot
With the requisite pre-wedding chaos, twists and tear-jerking moments abound from endearing characters, Brothers & Sisters concluded its fifth season Sunday.
The amusingly-titled "Walker Down the Aisle" featured Tommy doing just that, returning to escort his big sister as she tied the knot for a second time with Luc.
There's a lot going on elsewhere on relationship fronts. Saul is worried about going to the next level with Jonathan, while Justin has strong feelings for Tyler.
Oh, and Kitty is pregnant with Seth's baby. [crickets]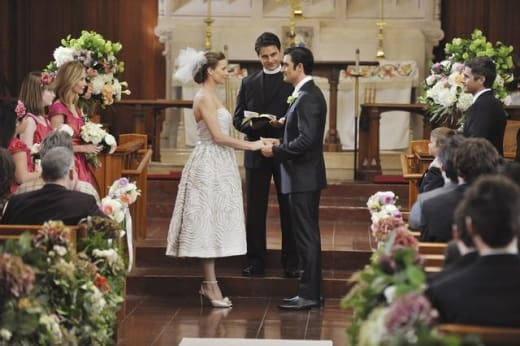 Before the wedding, Luc is thrown off when his mom, Gabriela, arrives without his dad, who he was expecting to see with his mother for the first time in, oh, decades.
Luc frets that something happened he's unaware of, while Paige's boyfriend is allowed at the reception but not the wedding, and Brody is persona non grata, period.
That all-encompassing ban doesn't stop him from creeping, parking outside the church just to get a glimpse of Sarah on her big day. That is his daughter, after all.
Just before the ceremony, father and daughter meet and share a moment.
The necklace she's wearing is the same one Brody gave to Nora. Sarah feels like she's going to fall, but her dad promises to catch her if she does. Cue river of tears!
Brody fills in for Tommy to give away his daughter at the ceremony, and Sarah is once again a beautiful bride as she exchanges vows with Luc. It's pretty wonderful.
At the reception, Luc learns that his dad is broke.
Gabriela didn't want to negatively impact the image her son's always had of him, but now that she's come clean about that, Luc's image of her has improved greatly.
As the reception kicks into gear, the surprises keep coming. Namely that Kitty is actually excited about her pregnancy. Seth has some serious reservations, though.
Mainly he's worried about how it will affect Kitty and her health. The guy seems to really care about her. It will be interesting to see where this goes next season.
Meanwhile, Jonathan asks Saul to marry him and he agrees! Bad form to get engaged at someone else's wedding, but how can you not be happy for the guy?
Justin has a bit of a breakthrough with Tyler, who had been trying to keep her failed marriage a secret, but is now happy just to be with Justin. They're sweet.
After Kevin, Tommy, Saul, Scotty and Cooper join Luc on an impromptu rendition of "Baby, I Need Your Lovin'", Sarah is stunned when her sister shows up.
Her half-sister Lori Lynn, as in Brody's other daughter. Awkward!
Still, it seems Sarah has come to grips with the changes in her life and is embracing them come what may. Just look at the way she and Brody danced together.
In a poignant ending, Nora closes out the night with a voiceover laced with reflection upon the past and a look ahead to the brighter days just in front of us.
Not surprisingly, this seemed constructed to potentially close out the whole series, should ABC not bring it back, while also leaving open options for next year.
What did you think of the Brothers & Sisters season finale, and the fifth season as a whole? Do you want to see it come back in the fall? Discuss below.
Steve Marsi is the Managing Editor of TV Fanatic. Follow him on Google+ or email him here.