Desperate Housewives Review: "I'll Swallow Poison on Sunday"

Christina Tran at .
Last night, we were reminded that no good deed goes unpunished on Desperate Housewives. All in all, "I'll Swallow Poison on Sunday" was a fine episode.
It had its strong points with watching Bree trying to discipline Gaby's girls and witnessing Felicia's evil tactics. Still, it's obvious that the big drama is still yet to come.
After all, we are only one episode away from the two-hour season finale. The last few episodes have been so-so for me, and I am hopeful for a jaw dropping finale. Let's just say, Desperate Housewives needs to desperately bring it.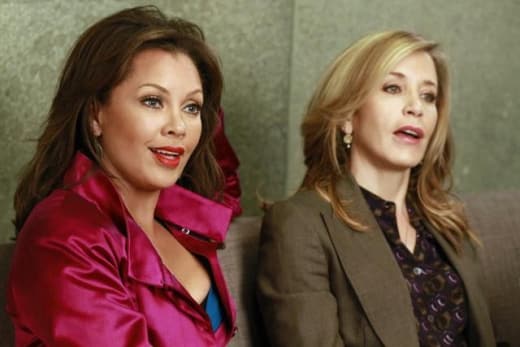 Although Bree couldn't smash, poison, or shoot her temporary household pests, it was entertaining to see Celia and Juanita attempt to destroy Bree's perfectly clean home.
From muddy shoes to broken mirrors and dishes, I laughed a few times while Gaby relaxingly sat in the corner.
Maybe Bree could have just tried to teach Gaby a thing or two about parenting. Then again, there was that time that Bree lied for Andrew when he accidentally hit Carlos's mother.
I still thought that Gaby was wrong for choosing Bree over Carlos. She should have told Carlos that she respected and understood her husband's feelings, but also that Bree is still her friend.
I do believe that Bree shouldn't have covered up for Andrew. However, we've especially learned on this show that desperate times call for desperate measures.
Although it was teased that Carlos told Juanita that Bree killed his mother, I expected that Carlos did not say those exact words. Fortunately, Carlos did not tell detective Chuck Vance the truth.
Since Bree convinced Gaby to move back home, she's going to be lonely again. Perhaps the detective will keep her company while bringing down evil Felicia.
By the way, how perfect was Susan's reaction to realizing that Beth was actually Felicia's daughter and Paul's wife? As conniving Felicia befriended Susan and poisoned the food she was making for Paul with antifreeze, I couldn't help but wonder if Mike, M.J, and even Susan were also all being poisoned, too.
Every time that Felicia speaks to "Beth," I am reminded how creepy and evil she truly is. With Paul collapsing at the close of the episode and short of the telephone, do you think that Paul will be all right? Who will find him? Moreover, will Susan be blamed for his deteriorating health and poisoning?
Meanwhile, Tom hired Lynette and Renee to decorate his office. However, Lynette's idea of what she thought Tom needed as opposed to wanted clashed. Sure, he did want samurai swords, but Lynette selfishly thought otherwise.
Renee said it seamlessly: "Lynette, you did a great job ignoring what he asked for. All that's missing is an antique jar for Tom to put his testicles in."
Luckily, Tom finally stood up to Lynette about her poor attitude since he started his new job. Tom told Lynette that it hadn't seemed as though she was happy or proud of him. I'm very glad that Tom and Renee put Lynette in her place, but I hope Lynette changes her attitude ASAP. Her narcissistic personality has been somewhat annoying lately.
Overall, I liked this episode. It wasn't the best, but it was certainly entertaining. I'd love to hear what you thought. Let me know in the comments.