Playing off the success of last week's "Warped Sister," Hellcats returned with another solid episode brewing with hookups and scandals. Some things hit right on the spot, others were MIA. Let's dig in and discuss "Land of 1,000 Dances."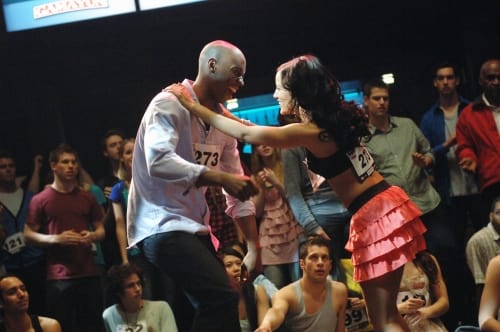 Julian drops a bomb. I knew he had to be too good to be true. No one is that good looking and dripping in all the qualities women want without some skeletons in the closet.
After abruptly canceling dinner with Marti, she goes to find out what the deal is. Turns out my new personal favorite lawyer has a daughter and an ex-wife. Sort of. Legally separated, divorce pending. Whatever...still a major secret. Not that Julian needed to tell Marti this information at this point.
Just last week they were sneaking around and they hadn't even had their first official date yet when she found out. Unless something is still going on, no use getting upset now. In the wise words of Wanda, "You are too pretty to waste." That goes for the both of them, especially Marti in that little black dress. (P.S. The two hooking up at the end = HOT.)
Dance Fever. How sweet is Lewis trying to win his dad a car? Although it did seem a little out of left field since we hadn't heard about his family since the beginning of the season. Doesn't matter. This provided the chance for Lewis to get rid of Nasty Kathy and get back where he belongs. With Alice. Throughout the past several episodes, you could see the changes in the resident mean girl. You could tell her feelings for Lewis have been legit and she actually was trying to do something without anything in it for her. I couldn't help but smile as Lewis grabbed her hand and went in for the kiss. These two have great chemistry and fit better than anyone else Lewis has been with.
Savannah's Family Falls To Pieces. After getting released on bail, Savannah's dad decides to make a run for it. This situation has its ups and downs, but mostly, it's dull. The adult characters and their arcs do not need to take up to much time and this story is running its course. Here is hoping the writers let Mr. Monroe keep driving without looking back.
With all this going on, there was little time for some of the other favorites. Dan's few minutes of screen time were not enough and Red and Vanessa were completely missing. They brought in Red's ex to stir up trouble, and she wasn't even mentioned in "Land of 1,000 Dances." Hopefully they make some fun out of this or the build up would have been for nothing.
Also missing tonight? Marti's sis. Can't really say she was missed, though. Ciara made a guest appearance and showed how to really dance (What was up with the old couple in the competition??)
Next week marks the season finale of the freshman series. The Hellcats are headed to Nationals and we will be able to enjoy some long overdue cheerleading. What hangs in the balance for the squad? Make your guesses below and check back next week to discuss the first season finale.