Another week, another strong installment of Modern Family.
"Good Cop Bad Dog" was an episode I've been waiting a long time for, where Claire and Phil switch parenting roles. We all knew it probably wouldn't turn out very well for them, but watching them attempt it was absolutely hilarious.
It was classic right from the get go. After Phil discovered Haley and Alex mostly stuffed the cabinets full of products and ran, watching him on the hood of the car and yelling at them for poking the bear? Great stuff. It only got better from there.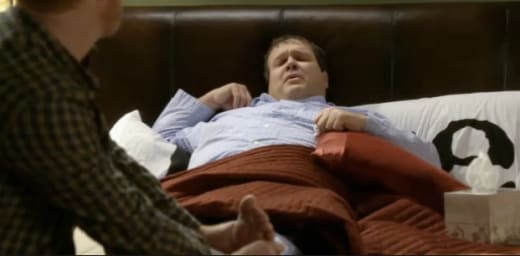 It's one of the things Modern Family does well, the small family moments that none of us particularly pay attention to in our lives until they are magnified on the small screen.
This week, for me, was the bathroom cleaning. All of us have had to do it at one point or another. The gross, hanger grab of hair to clear the drains. We've all been there.
Watching Haley and Alex freak out and begin to cough and dry heave was priceless (not to mention the fact that the hair looked like a dead rat).
Watching Claire try so hard at being the fun parent and failing rather spectacularly was just as good. The best part of her story, for me, was the food counter scene.
Elsewhere, Gloria and Jay and Cam and Mitch didn't have very big stories.
Cam and Mitch didn't do much for me because Cam was sick and all Mitch wanted to do was get to the Lady Gaga concert. The best part of their story was when Mitch was still wearing the glow stick necklace under his shirt when Cam told him "you're still glowing."
Gloria brought home another "stray" who needs help and I found Jay's reaction to be priceless. In that, he doesn't care as long as it doesn't interrupt his golf game and it doesn't cost over a hundred dollars.
Read some of last night's best Modern Family quotes and tell us what you thought of the episode below!