NCIS: Los Angeles Review: The Mysterious Max Gentry
Steve Marsi at .
Marty Deeks was forced to re-use an old alias Tuesday night on NCIS: Los Angeles, which led to an interesting character examination of both Deeks and Max Gentry.
Max let us see a new side of the shaggy, happy-go-lucky LAPD liaison, one that shed more light on his troubled upbringing and made him seem surprisingly complex.
At what point did the alias stop being an alias? How much of Deeks' feelings weren't an act? Particularly when dealing with Ray's wife, that line was distinctly blurred.
Kensi's reaction summed it up perfectly. She was stunned, as were we, by the dark, supremely confident version of her partner - and more than a little jealous.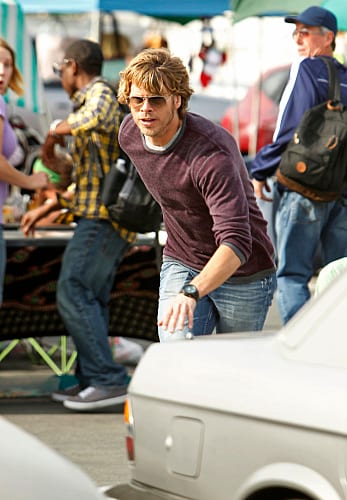 Eric Christian Olsen was outstanding in "Plan B," an episode that let him almost try on a new character. While it's clear Deeks dreaded playing Max Gentry in a sense, part of him liked it. Perhaps a little too much for his own good.
NCIS: LA has featured so many Callen and Sam aliases, but never Deeks, usually the affable sidekick to these hardened federal agents. That's what made it so effective.
While last night's NCIS illuminated parts of Tony's past via flashbacks, LA used the alter ego of Max Gentry to peel back a new layer of Deeks. The big revelation?
Undercover Deeks fell for his best friend's wife. She fell for his alias.
Watching Nicole learn that Max Gentry doesn't really exist was heartbreaking, given her genuine emotion, and you could tell how badly it hurt Deeks to reveal himself.
The plot ostensibly centered around the hunt for Ray, Deeks' old friend who became an informant after Marty busted him years ago, then helped him nail an arms dealer.
Only Ray slipped out of protective custody just as he was about to assume a new identity, putting himself very much in harm's way, and even Deeks had no idea why.
To find Ray, Deeks slipped into character as Max Gentry, who's not afraid to throw down first and ask questions later. Kensi was equally parts impressed and appalled.
When "Max" laid out the guy in the bar, then made the utterly crass joke about it being his time of the month, it was like we were looking at a different actor on screen.
Kensi was repulsed, but Deeks is an undercover cop. Hetty doesn't just sign up any stiff off the street, remember. As a walking Wikipedia, Kensi should remember this.
Both Olsen and Daniela Ruah were terrific, exhibiting chemistry that's so much more than that of a buddy-cop partnership. It was as obvious to Ray as it was to viewers.
They totally have a "thing" even if they don't know it yet.
People will do a lot of things for love, and to turn the page in life. The fact that Ray risked everything to be with his pregnant girlfriend was a surprising, poignant twist.
After faking Ray's death a second time to satisfy the dealer's thirst for revenge, they faded away into the sunset, leaving Deeks to ponder where his own life is headed.
Having learned so much more about where he came from and what makes him tick, we can't wait for the next chapter of Deeks. Even if Max goes back into retirement.
A few final thoughts:
Callen referring to himself as "Mr. Carl" in a Salvadorean speakeasy? Not unhilarious. Now there's an alias they need to bring back at some point.
Never again will we mix up alligators and crocodiles. Thank you Kensi.
How much would you pay to see Callen riding in the sidecar?
I was actually fooled by Ray's second "death." You?
What did you think of last night's NCIS: Los Angeles? Discuss!
Steve Marsi is the Managing Editor of TV Fanatic. Follow him on Google+ or email him here.