I commend One Tree Hill for how it handled the River Court story in "Flightless Bird, American Mouth."  On a show that is quite melodramatic to begin with, it easily could have taken a plot about the memorable historic landmark of the town and gone way over the top with it.
Instead the series used a camping session, Clay's out of left field quirkiness, and the continued evolution of the Chase and Chuck relationship, to lay the ground work for what ended up being a really sweet moment for the court, the show, and Marvin McFadden.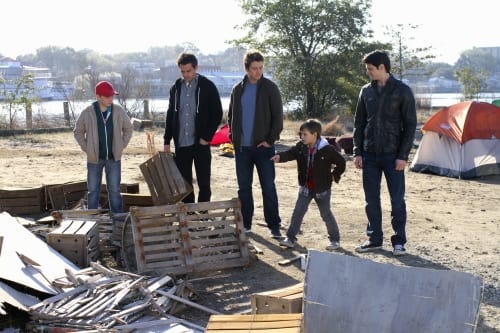 I was glad that the one person still on the program regularly who actually grew up on the River Court was able to shine in that moment. Sure, Nathan trained with Q for about a fraction of a second on that court, but he spent his entire life in the gym or in his driveway. This was Lucas's court, and it's just a shame that he wasn't there to help save it.
As we segued back to the camping and Clay's third new personality in as many episodes, I enjoyed this one. His hatred of camping worked perfectly... and only slightly because I share his sentiment. It's just always funny to have someone hating on what everyone else is doing, and it helped that he was wearing that Boitano shirt and sitting in a recliner.
It is more difficult every week to not mention how great the Chase and Chuck dynamic is. You know it's fantastic when that moment that Chuck heard that Chase was leaving for the Air Force hurt me just as much as it seemed to hurt the youngster. Chuck went in for the hug with a "I don't want you to go," and then performed that mini speech about his dad leaving, proving once again that Michael May has some serious acting chops for a 12-year old.
Before we move on to the beauty of Puerto Rico, let's mention how James Lafferty made up for the awful "Adams, Baker, and Scolnik...it's like a bad lawfirm" line of dialogue with a pretty solid conversation between Nathan and Julian about kids, parents, and pregnancies. It's difficult to keep a secret in Tree Hill, that's certain.
It's hard to complain about the gorgeous scenery we witnessed as the girls went to Puerto Rico for Quinn's fashion shoot. Also, the location was pretty! (See what I did there?) Honestl,y though, it's tough to have a scene where two girls are astonished by another female's good looks when the first two ladies are Sophia Bush and Jana Kramer. I'm just saying.
While it wasn't as interesting as what was happening back on the mainland, the girls having themselves a good time was fun and entertaining. Watching Brooke toss shots of tequila over her shoulder was enough to please me for the entire hour. I was glad that Quinn noticed it, though, because Brooke was pretty deliberate in her actions.
It was nice to see Alex keep her part of Brooke's secret, even if Ms. Davis and Julian ended up telling a number of people about the pregnancy before the episode was over.
Between Brooke's pregnancy, the River Court getting saved, and Brooke staying in Tree Hill to open a new Karen's Cafe with Haley, everything is going a little too well right now.  If I know One Tree Hill at all, we may be in store for something horrific in next week's season finale.
Other Thoughts
Just once I want them to have a plot line where you can't put "the old" in front of it. This week it was "the old endangered species saves the historic landmark" story.
Anyone catch the Davola Pizza Place delivering the pies to our campers? No doubt a nod to Exec Producer Joe Davola. Nice touch.
Clay had such a good point about the stupid bird. Let it die out if it is not smart enough to build its nest up high.
No scene on TV has been more definitive of the times than when all the men were sitting around the camp site texting their girlfriends.
Just some fantastic music in this episode. My favorites were definitely Last Friday Night by Katy Perry and Rolling In The Deep by Adele.
Saving the River Court and bring back Karen's Cafe all in the same episode? They really are trying to pander to the long time fans at this point.
What did you all think of "Flightless Bird, American Mouth?" And what do you think is in store for next week's season finale?
Dan Forcella is a TV Fanatic Staff Writer. Follow him on Twitter.