"Everything's coming up Milhouse!"
Editor's Note: I have to warn you, after using that expression for over a decade of my life, hearing one of my favorite Simpsons quotes reused by Milhouse gave this episode a seriously unfair boost.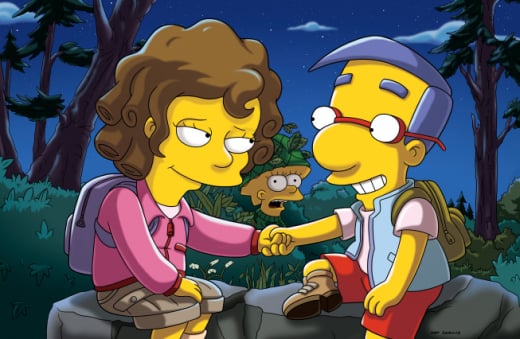 And that's not to say the episode necessarily needed it.  While episode's title, "Homer Scissorhands," and even some music were borrowed from the 1990 Johnny Depp movie, the episode still managed to feel fresh.  Well as fresh as an episode from show's 22nd season and focusing on Homer starting yet another career could be.
The A story line found Homer as a hairdresser and was definitely the stronger of the two running plot lines.  While the actual scenes of Homer as an actual hairdresser weren't as good as Warren Beatty's Shampoo, his rise and fall led to plenty of laughs.
Some highlights?  Homer's original plot to kill Selma before cutting her hair, explanation for how all he could think of since losing his hair was cutting and styling, and well, Julio.  Just a quick question, how did Selma gain all that weight back so quickly after last week?
Meanwhile, the B story, focused on Milhouse finding a new love interest in a character guest voiced by the usually hilarious Kristen Schaal.  Unfortunately, like so many other wasted guest stars this season, Schaal was just not given the lines.  And if you don't think this comedian has an amazing skill at voice acting, just check her out on Bob's Burgers.  Oh Simpsons writers, why wouldn't you have made Schaal as funny as her other former Flight of the Conchords stars that previously guest voiced?
No, the episode was nothing special and I'll far from claim it as the strongest episode of The Simpsons, but unlike Johnny Knoxville, the folks of Springfield had me laughing out loud multiple times this episode.  And I'm not just talking visual gags like so many episodes rely on.  Though the latest Duff ad campaign and Moe walking around in bush camouflage were both damn good. 
What did you guys think?
Eric Hochberger is the programmer of TV Fanatic, so please forgive his mediocre writing. His programming is far better. Follow him on Twitter and/or email him. Just don't request threaded comments. They're coming.