TV Fanatic Live at the ABC Upfronts: Jimmy Kimmel Slays, 2011-12 Lineup Shows Promise

Christine Orlando at .
It's that time of year.
As the flowers bloom and the sun shines brighter, the networks hawk their fall lineups to advertisers, and TV Fanatic was lucky enough to be there for ABC's Upfronts.
ABC President Paul Lee hyped the network's fall schedule and programming Tuesday, but it was the network's late night host, Jimmy Kimmel, who stole the show.
Taking shots at rival networks as well as his own, Kimmel took the stage and lit right into how ridiculous the TV business can be. Here's a rundown, with Kimmel's gems: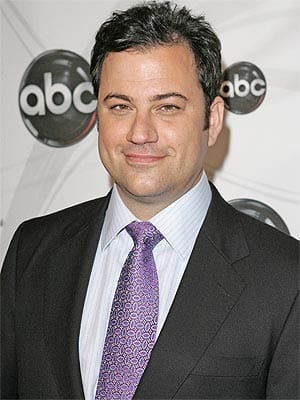 - "Remember those shows we were so excited about last fall? We canceled all of them. And yet here you are again. I think you might have a gambling problem."
He's really not kidding there. At last year's Upfronts, ABC touted No Ordinary Family, Detroit 1-8-7, Body of Proof, My Generation and The Whole Truth.
The only one still on is Body of Proof (see our season finale review). Not good odds.
- "Every year, you come here, we shower you with promises and never really follow through on any of them. If this was a show, we'd call it The Bachelor."
Also funny because it's true. But he didn't save it all for his own network. Kimmel spread the love around, starting with the down on its luck NBC.
- "Be honest, what did you think of NBC's upfront? It's cute that they're trying. NBC has a new boss too. A guy named Bob Greenblatt. Bob is asking for patience while they turn things around and you should be patient. Hang on to your ad money for as long as it takes them to get their sh*t together ... But in the meantime, they'll be selling their ads on Groupon this year. You can get a 30-second spot during 'The Office' and a a Thai massage for 45 bucks."
FOX took its licks too. Jimmy's critique of FOX's The X Factor was spot on.
- "A competition show featuring Paula Abdul and Simon Cowell. Young people will go on and sing and America will vote who they think will be champion. I have to say, I think this is the best idea… of 2002. It's like American Idol meets a mirror."
Even heavy hitter CBS wasn't spared Kimmel's comic wrath.
- "The business of network television is very uncertain right now. FOX, ABC and NBC are all losing viewers to cable and the internet. And CBS is losing viewers to natural causes. Did you know that more people die watching CBS than any other network?"
But we weren't there for Jimmy Kimmel's killer monologue. Well, maybe some of us were. Officially we were there to check out what they're calling The Power of ABC. So here we go.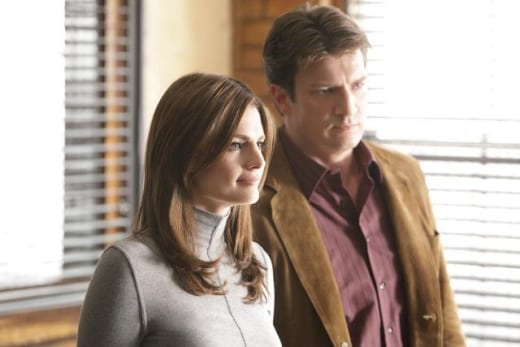 What I personally term "Happy Castle Mondays" will remain intact with no changes to the Dancing With the Stars and Castle lineup. Lee proclaims Castle as "perfect for our brand" and that it's "really found its groove."
This fan was smiling from ear to ear.
Tuesdays will see a couple of new male-oriented comedies with Tim Allen being tempted out of his golf retirement to play a husband and father surrounded by women in Last Man Standing. That's followed by Man Up about three grown men still trying to grow up. 
Both clips showed potential so we'll keep our fingers crossed for this new man block of comedy which will lead into the Dancing With the Stars Results Show and Body of Proof.
Wednesdays will keep The Middle followed by a weak looking satirical comedy with a strong cast called Suburgatory.
The powerhouse Modern Family remains at 9 p.m., then Happy Endings, followed by Revenge, an intriguing thriller starring Emily VanCamp and Madeline Stowe.
Even in the short preview clip, I liked Emily much better than I did on Brothers & Sisters.
Paul Lee called Thursday newcomer Charlie's Angels "pure candy" and he wasn't kidding. With lots of action and eye candy, this show could follow in the fun footsteps of the original.
Grey's Anatomy and Private Practice will stay where they are on Thursdays.
Fridays are being sold as ABC's new family night as they move Extreme Makeover: Home Edition to the 8 p.m. slot, followed by Shark Tank and 20/20.
Saturday is all College Football. If you're a fan, it's great. If not, you'll be looking somewhere other than ABC.
ABC wants Sunday to be appointment TV with Once Upon a Time, a strange but fascinating fantasy, fairy tale, drama. It's from the creators of Lost and could be one heck of a ride if it works.
Desperate Housewives stays put as Pan Am flies in at 10pm to take a turn at the Mad Men vibe. Lots of beautiful women in '60s style short skirts looking to experience the adventure of the friendly skies. I'll admit it looks a lot more interesting than NBC's The Playboy Club.
Kimmel summed up the new lineup best when he said:
- "Here's what it comes down to. All of us at ABC from the top down are committed to one thing: keeping our jobs. And so we have no choice but to create quality shows even though it's a huge pain in the ass. I can't promise these shows will be good or that these shows will be successful. But I can promise you that they will be expensive to advertise in."
There's nothing I love more than honesty on television. If for no other reason than it is so rare.
C. Orlando is a TV Fanatic Staff Writer. Follow her on Twitter.