Someone will die this week when sniper Jacob Broadsky returns. We don't yet know who, but we do know this week and next are full of big moments on Bones.
Luckily, creator Hart Hanson, executive producer Stephen Nathan and stars Emily Deschanel, David Boreanaz, T.J. Thyne and Michaela Conlin dished on them.
All of them gathered at L.A.'s Paley Center for Media Monday to preview "The Hole in the Heart" and more. Here are some excerpts of their Q&A, via TV Line:
On Broadsky's victim: Sounds like it's gonna hurt. "You don't want to kill someone on the show and have the audience say, 'Oh, thank God!'" said Nathan.
Added Deschanel: "It's sad to see both the actor and the character go."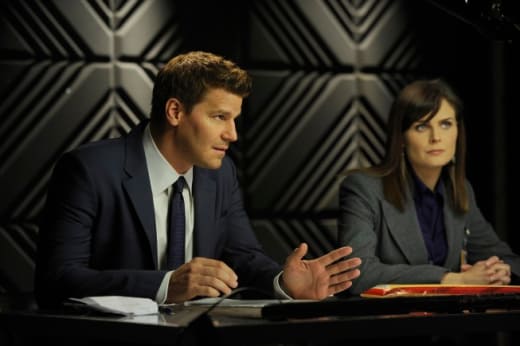 On the big question: Castle creator Andrew Marlowe recently said it's time Booth and Brennan got together. "I do give [his comments] credence," said Hanson.
"He runs a really good show. He knows what he's doing, so I'd be crazy not to go, 'Oh, that's interesting.' … He's one of those voices you would listen to."
But, Hanson added, that "doesn't mean I act upon it." No, but the Bones season finale spoilers we've read certainly imply something is in the works ...
On the birth of Hodgins and Angela's baby: "I watched some clips on YouTube," Michaela Conlin said of preparing for the scene. "I was very nervous."
Probably not as nervous as Hodgins, "the perfect harried father," according to Nathan.
On the future of The Finder
: On reports that
The Finder
may fill holes in
Bones
' schedule next season while Deschanel takes maternity leave, Hanson deferred.
"If The Finder doesn't get picked up to its own series, then it will go into the bin of ideas for what to do with Bones," he said. "I'd do just about anything to get The Finder picked up. It'd be fun. But they're separate."
On exploring Booth's past: A storyline exploring Booth's childhood became a causality of the writers strike, but the producers hope to revisit it next season.
"We have to decide what [piece] of Booth's past to bring out," explained Hanson. "We have a couple choices – [his] mom or dad? Probably not both, but you never know.… I'd be really surprised if we didn't do that next year."
On the show's expiration date: There is none! "As long as people keep murdering people," replied Hanson when asked how long the show can go on.
"As long as these actors are producing what they produce."
Steve Marsi is the Managing Editor of TV Fanatic. Follow him on Google+ or email him here.