We've been kind to The CW through our first pair of 2010-2011 season report cards. Just look at the grades we gave to The Vampire Diaries and Nikita.
But, be warned, that's about to change. In the following assessment of 90210's third season, we breakdown what this series did right and, mostly, wrong...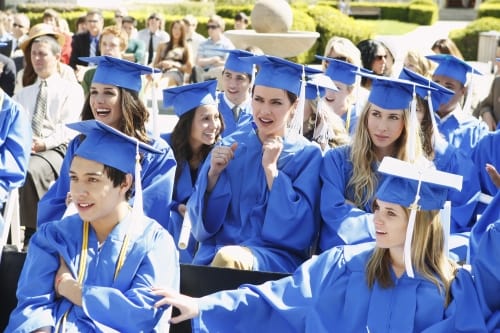 Best character: Naomi. She's clearly the most entertaining, even if AnnaLynne McCord can't really act and even if the character is a bit inconsistent. It's still fun to watch her antics and her relationship with Max was done well.
Worst character: Adrianna. Not just because she was made into a villain, but because she was made into a caricature. Fame can definitely change someone, there was potential for a realistic transformation here. But the show bungled the storyline and made Adrianna into a cartoon. There's no way she can be redeemed, is there?
Best episode
: "
The Prom Before the Storm
." A solid showcase for the two season characters that have come the farthest, Teddy and Naomi. A funny showing by crazy party-planner, Harper, added humor to the mix, while Ivy and Ray really upped the emotional ante in their relationship.
Best storyline: Teddy coming out. It was ruined by producer way ahead of time, and played out in a predictable manner, but kudos to the show for going there at least.
Actress most in need of a cheeseburger: Shenae Grimes.
Hopes for 2011-2012: I'm actually on board with the rumored cast shake-up. With so many characters to serve, 90210 goes far too long without giving some of them anything to do. I'm specifically thinking of Dixon, who might as well have not shown up this season. This show can't compete with Gossip Girl for snark or crazy storylines, so I'd prefer if it stopped trying and focused more on a smaller number of individuals.
Overall grade: C. 90210 doesn't offer anything especially fresh - a second main character is pregnant? Really?!? - and, we're sorry, but the acting is terrible. A change of scenery, to college, might help things a bit. But it's unclear where the show fits on The CW; unlike Nikita, Vampire Diaries and Supernatural, it doesn't offer any real suspense. And unlike Gossip Girl, it just isn't very witty. I'll be shocked if it earns a fifth season.
Agree? Disagree? Sound off now with your own grade for the third season of 9021o!
Matt Richenthal is the Editor in Chief of TV Fanatic. Follow him on Twitter and on Google+.