When we last left Sam Merlotte, he was holding a gun to his brother's head.
How will this development play out on season four of True Blood? Spoiler alert, Sam Trammell told me this week, Tommy survives.
"Tommy is there," the actor said. "We still don't know whether I shot him or not. But he's definitely around."
What about the rest of Sam's family, who viewers met last year? They "come back to haunt me," Trammell teased. "I can't quite escape them."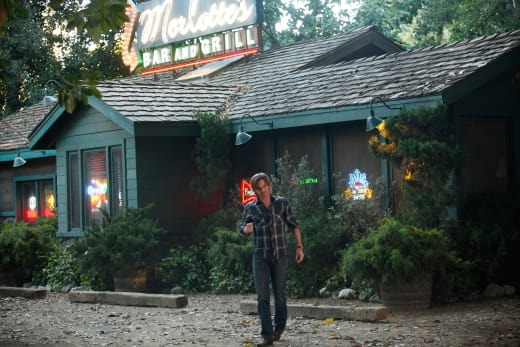 While Sam's past won't leave him alone this summer, his future will be consumed by a new love interest: a shape-shifter named Luna, played by Janina Gavankar.
"She's part of a new shape shifter community that I meet," Trammell said to me. "We explore the shape-shifting mythology a lot this season and flesh out more details as far as the role of shape-shifting in the world. We'll meet others like Sam."
This ought to sound familiar to readers of Charlaine Harris' novels, on which True Blood is based. Trammell says to include him in that group, as he finds the author "incredible" and says he read the first few books in her series immediately after he was cast because he was just so excited about the role.
Viewers have come to feel the same way over the years. Trammell says he first realized the massive popularity of the show when the cast showed up for Comic-Con after season one and the crowd was twice what it had been 12 months earlier.
That figure doubled again a year later.
"You feel like you're The Rolling Stones or something walking out on that stage," he said of the experience at the event.
With readers clamoring and speculating over every new True Blood clip and teaser, it's unlikely the excitement will die down any time soon. The HBO hit returns on June 26.
Matt Richenthal is the Editor in Chief of TV Fanatic. Follow him on Twitter and on Google+.