Mary hates con men. Why? Because "they don't just take your money. They rob you of your dignity. They leave you poor, wide eyed and stupid on the side of the road." 
"Second Crime Around" gave us a completely unapologetic con man in Ronnie McIntyre. Ronnie just didn't care. Every person he came across was nothing more than a mark to this man and he earned every bit of Mary's disdain.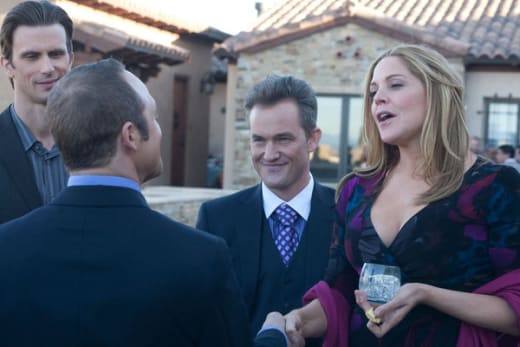 The best thing about Ronnie's story was that it forced Mary and Marshall to work undercover. Marshall may have sworn that he averted his eyes when Mary undressed so that Julian could search her for a wire... but did you see the look on his face? The man's jaw dropped. 
And when Marshall thought Mary was in trouble, he ran in there with a speed I wouldn't have thought possible. Plus, that was one heck of a tackle. Then he chastised Mary that she could have asked for help. Mary? Really? He might wish she'd ask, but we all know that isn't going to happen.
Best scene of the night was the foursome for dinner. Marshall just had to meet Mary's ex-husband, even if he had only been her husband for five days back in high school. 
I had to admit that Mary and Mark kept grinning at one another like a couple of lovesick teens. It was no surprise when the night ended with sex on her sofa. That Mark thought this was more than a one night stand proved that he really didn't know Mary at all.
As much as I love the Marshall and Mary dynamic, Marshall and Abigail were just adorable in this episode. They're both commitment-aholics and had to fight the urge jump in too fast. "And finally, I'm ready to put my gun in your lock box." Yes, seriously corny but very sweet. 
One of my favorite things about this show is Mary's snarkiness and sarcasm. On a scale of 1 to 10, Mary's snarky comments rated a 6 for this episode. They started off strong but fizzled out some towards the end.
Best line of the night:

I'm not a team player, Stan.  And that's a direct quote from last year's performance appraisal.
Be sure to check out our Quotes section for more favorite lines and don't miss next week's episode.  From the look of the teaser, this one's going to be a doozy.
C. Orlando is a TV Fanatic Staff Writer. Follow her on Twitter.