Southern Gentleman/Memphis Detective Dwight Hendricks and the rest of Memphis PD returned for their second season with a strong premiere tonight, titled "At the River."
After a long year without Dwight and the southern charm of this police force, Memphis Beat delivered a strong, well-written, and particularly emotional episode of the primetime drama.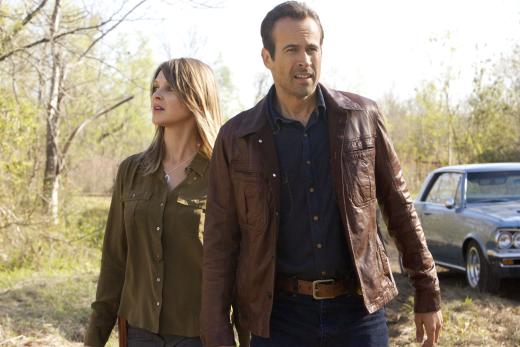 The murder of Officer Eckler hit particularly close to home, given Dwight's personal loss of his father in the line of duty. The care Dwight took in looking after Jack Eckler, Don's young son, was no doubt a reflection of his own experience as a young child, suddenly without a father.
It was touching, enhanced by Dwight's mom coming to the station to bring Dwight his father's dress blues hat. It was clear his mother had taken care of it over the past 30 years since the loss of her husband. There wasn't a speck of dust on it.
When you haven't lost a parent, it can be hard to remember that it's something a person lives with every day, which is clearly true of Dwight and his mom. This sensitivity made Dwight a prime candidate for tempering IA's apparent predisposition to assume the worst of Don Eckler from the very beginning, which was key to exacting the truth of the matter.
It was also important because, as we learned last season, the death of Dwight's father in the line of duty may not have been completely accidental, a plot point which I hope will get revisited and clarified as the season continues.
The white supremacist arms dealing conspiracy was a thought-provoking addition to the episode. It surprised me to be reminded that even long after the KKK, the white supremacist culture still remains, especially in the south.
On another front, it seems Det. White is coming to a point in his life where "coasting" isn't going to cut it anymore. When Lt. Rice took a sharp tone with him about his attitude, despite her offer to help him with the vast amount of material covered on the promotion exam he'd previously failed, White began to question his effectiveness as a cop. You can't help but wonder what impact this may have on White's character development throughout the season.
Every episode, and the music contained in it, is a tribute to the musical and cultural history of Memphis, with characters as unique as the city they protect. While this episode took a more reverent tone, there will likely be more light-hearted humor and cases ahead.
Overall, it seems Memphis Beat will have engaging content and, of course, the southern musical stylings of Jason Lee to propel the show through its second summer season. What did you think of the season premiere?
C. Charles is a TV Fanatic Staff Writer. Follow her on Twitter.