Complicated makes for great TV.
So said Missy Peregrym to me this week, previewing what's ahead on season two of Rookie Blue.
The actress, who anchors this ABC summer hit, was referring to the relationship between her character of Andy and the officer with whom all fans want her to end up: Ben Bass' Sam Swarek.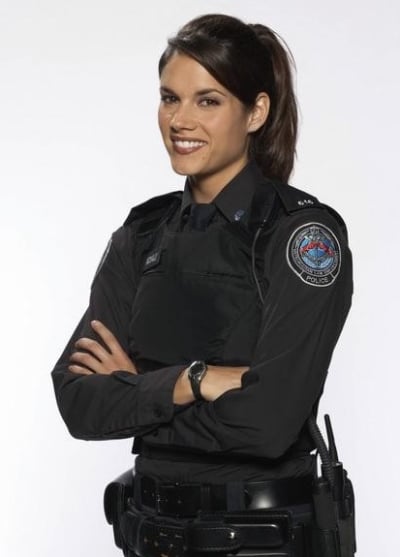 But Bass said last week the audience "doesn't get what they're expecting" when it comes to these characters, and Peregrym teased a similar twist in our interview yesterday.
"There's definitely opportunity," the actress said of Andy and Sam getting together. "Unlike last season, they won't lose their jobs if they decide to date now... but she started the season by moving in with Luke, she's happy, she's hopeful. But things will get complicated and muddled."
A lot of that will have to do with Camille Sullivan's Jo Rosatti, who made her first appearance on last week's premiere. The arrival of Luke's ex "gives Sam hope" that there's a future with Andy, Peregrym said.
As for the series itself, the future may have been unclear a year ago, as networks don't typically air original, unscripted shows in the summer. But Rookie Blue overcame comparisons to Grey's Anatomy and now stands on its own.
"It was a compliment at the time, as that's a great show that has done very well," Peregrym said. "But it's nice to not need [the comparison] anymore. I think fans like us for what we bring ourselves now: a character-based cop show that uses policing as a backdrop. Our personal lives come first."
Peregrym says viewers will go deeper into those lives this season and, she hopes, on many seasons to come. First, though, remember: life is about to get a lot more complicated for Andy McNally.
Rookie Blue airs a new episode tonight on ABC. Return to TV Fanatic after it airs for a full review.
Matt Richenthal is the Editor in Chief of TV Fanatic. Follow him on Twitter and on Google+.