Sendhil Ramamurthy Teases Darkness, Bombshell For Covert Affairs Character

Jeffrey Kirkpatrick at .
During the first season of Covert Affairs, the agenda of one Jai Wilcox, son of former CSD director Henry Wilcox, was murky at best.
Sendhil Ramamurthy, who portrays Jai, says there will begin to be some clarity around that issue as the series rounds out its summer run.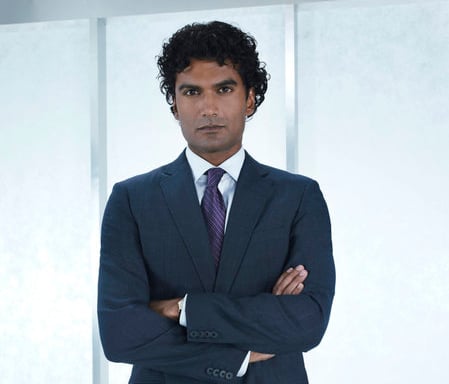 "By the end of the tenth episode, it will become apparent what Jai's end game is for the season," Ramamurthy told me. "At the beginning it's kind of seeing Jai deal with not having things go his way, and that's not something he's used to. He... had a privileged upbringing and he's not really used to this, but he's also pretty crafty and willing to do things that maybe others wouldn't. We're going to start exploring that a little bit. It's a little bit dark and kind of cool to play."
Ramamurthy also alluded to an upcoming "bombshell," which should take viewers by surprise during a scene with his on-screen father, played by Gregory Itzin.
"They have a very contentious relationship and we're about to shoot a bunch of scenes tomorrow [with Greg] which I'm really, really looking forward to because they're a lot of fun. There's like a little bombshell that comes out at the end of one of their conversations and I'm looking forward to playing those moments."
Covert Affairs airs Tuesdays at 10 p.m. on USA.
Jeffrey Kirkpatrick is a TV Fanatic Staff Writer. Follow him on Twitter.