I was certainly glad that my lights were on while watching the opening scene of "Magic Bullet." 
The series has figured out how to do scary moments, such as Kate's drive down Wolf Lane, extremely well, and it's a big reason why I continue to enjoy the new MTV series.
It is perfectly pleasant for what it is. We're not here watching a summer television reincarnation of Teen Wolf for genius writing, as proven by the scene when Kate sends Scott into the only room where he was going to find what he needed at that exact moment. No, we watch Teen Wolf for wolf fights and wolf sex, mostly.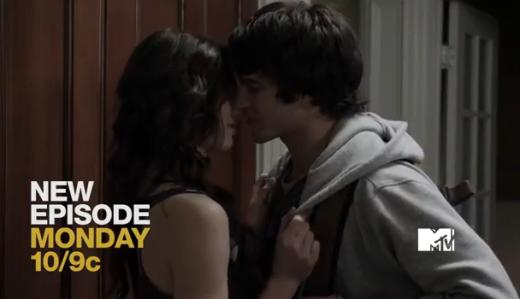 Having said that, "Magic Bullet" did a good job of moving the story along while introducing a brand new character in Kate. Scott and Allison's relationship continued to grow, the boy wolf became closer with the man, the wolf, the legend, Derek Hale, and Chris Argent started to figure out that there is indeed another wolf out there in Beacon Hills.
It was about time to bring in some new blood, and Jill Wagner was perfect as the wild and wacky Aunt Kate. I loved her interactions with, Allison, Chris, and especially Scott after inviting him into the Argent house for dinner.
As the cool aunt, it was perfect that she was fine with the two youngsters making out in the garage. On the other hand, she takes some things seriously, as she questioned Scott about going through her bag. A cheap trick, I admit, in order to throw us off, but they had me going until Allison pulled the condom out of her pocket.
I continue to remain cold on Scott as a character. Even though Allison is all kinds of hot for him - to the point where she replies "good" to the fact that her dad was watching them make out - I find almost everyone else in the cast more compelling. Not the least of which is Derek, who I began mourning for early as he had his near death experience. Thank God he is still in our lives!
Derek brought the fear into Stiles eyes on more than one occasion, but how scary is JR Bourne as Chris Argent?!? I don't care if he is a werewolf hunter or not, I would not want to sit down to dinner with a man that stares like that! I don't care how great Allison is; if I am Scott, I am heading the other way if that is my future father-in-law. The guy is the most evil looking man in a dress shirt I have ever laid eyes on.
The guy also has a great talent for metaphor. That story Chris told about the rabid dog at the dinner table captivated everyone on screen, and I'm assuming most everyone watching it. I wouldn't be surprised, however, if he planted that rabid dog near his family all those years ago so that he could use that story when he needed to in the future. That's just how mad I'm expecting Chris Argent to be.  
Before we leave it to the comments, let's reminisce in the Wolf Moment of the Episode: Scott uses his wolf-claw fingernails to retrieve the bullet from out of the gutter! Extremely wolf-tastic!
"Magic Bullet" kept me entertained this week.  What did you all think of the episode?  And what are you looking forward to most next week?
Dan Forcella is a TV Fanatic Staff Writer. Follow him on Twitter.