The Big C premiered season two tonight with renewed vigor and enthusiasm. As Cathy said early on in "Losing Patients:"
I have a very stubborn cancer! | permalink
The truth, of course, is that the cancer has a very stubborn owner, one who started to grow a bit dislikable last year. Lying to your family and having an affair will do that to a main character.
I was actually of the opinion the show should not have returned this summer, partly because "Taking the Plunge" would have made for a stellar series finale and partly because I didn't know where the series could go with everyone in on the disease.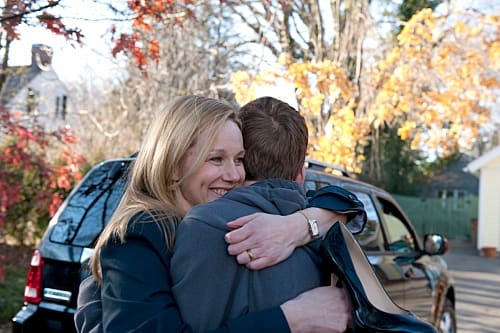 But I was wrong. There's a lot of material to mine here, starting with the relationship between Cathy and Sean.
The latter became a bit of a caricature on season one, seemingly around just to increase the show's quirky factor.
But he now feels like a well-rounded, layered individual, as he tries to take responsibility for his child and even to sleep inside a house. The show did Sean a service on the premiere by having Rebecca emphasize his illness to Cathy. It was too easy last year to just write Sean off as a lovable loon - but now we have a fascinating dichotomy of two people dealing with two very different diseases.
Fresh off a Tony Award victory, John Benjamin Hickey was outstanding as always.
And what's there to even say about Laura Linney at this point? She conveys emotion in every scene, often multiple emotions within seconds, the best example being the concluding moments where she went from elated over her new doctor appointment; to sad over Thomas' presumed death; to reflective over the dog's life and the vision of Marlene over her shoulder.
Other relationships that have evolved for the better:
Rebecca and Sean: Cynthia Nixon should make for an entertaining presence this season, assuming she keeps uttering gems such as: "With all the educated c**k I've had it my mouth, it's cruel irony that my baby daddy is a bipolar dropout."
Paul and Cathy: There was too much of Oliver Platt as a sad sack last season. But now he's back to having fun, smoking pot, punching doctors and encouraging Cathy every step of the way.
Cathy and Adam: I like that he isn't overly depressed over his mom's diagnosis, nor is he rebelling in the way we might have expected. Instead, he's just... farting aggressively. And trying to be as normal as possible, given the circumstances.
Overall, an entertaining, emotional season premiere. All you can often ask of a series is for its characters to move forward in some way. That's clearly happening here. Combined with stellar performances, The Big C should make for appointment viewing every Monday night this summer.
Matt Richenthal is the Editor in Chief of TV Fanatic. Follow him on Twitter and on Google+.