The Nine Lives of Chloe King Review: Welcome, Valentina!

Carissa Pavlica at .
The third episode of The Nine Lives Of Chloe King, "Green Star," started to kick things up a notch by making Chloe think of her situation as a lot more than just a high school prank.
However, there were still a lot of inconsistencies in the writing that need to be dealt with if the show wants us to buy into a culture that has been awaiting the great Uniter for thousands of years.
For example, Alek and Jasmine are at Chloe's side all the time... and yet neither of them have managed to see the scar-faced guy who also happens to be right next to them, wherever they are?!? What is the point of watching out for Chloe when all they do is simply watch Chloe?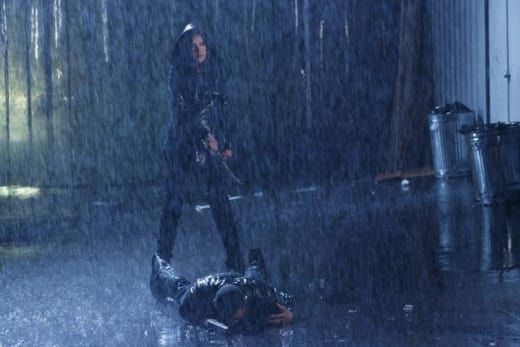 Shouldn't they be looking for oddities in the bushes, scarred men jumping from rooftop to rooftop and the like? Chloe's life is always in peril, and not once have they stopped anything before the action started. That's shoddy protection.
In good news, Alicia Coppola joined the cast as Jasmine's mom, Valentina. This is a real coup for the show, as she has done some phenomenal work on other great programs, such as
Jericho
.
She is the perfect actress to play Valentina, bringing a sense of drama to the situation of the Mai. To this point, it's been difficult to take anything about them seriously; it's just a couple of kids trying to fend off an evil foe threatening their race.
The introduction of Valentina also made Chloe realize the significance of her role in the Mai. There is the possibility that she may have to leave the life she has always known, not only to protect her own life, but of those she loves. That should help bring home the reality of the situation she's facing.
There are some things I really don't understand, such as how Scar-Face (incidentally, called "The Rogue" in the credits) got so close to Chloe's mom. Especially after discovering that Alek was there the entire time. Why was Alek so sure that Scar-Face wouldn't do actual harm to Meredith? Sure enough, even, to actually allow him to gain entrance into their home?
The Mai try to convince Chloe that they will protect her and those around her, but in three episodes there have been far too many close calls for my comfort.

While everyone is supposedly protecting her mother (albeit unsuccessfully), they forgot to protect her best friends, Amy and Paul. As Amy sang her soul out to Paul, Chloe could only hear it through a threatening phone call from Scar-Face, only a few feet from Amy. I'm not the leader of an ancient race and even I know not to put all of my eggs in one basket. Don't these people watch movies?
I'm still rooting for Chloe and Brian, even though they are trying to make us think there isn't a chance. His relationship with his father is still a mystery, and I want to know why he was looking at files that seemed to concern his mother's death.
But there is also Alek. Granted, he was ineffective overall, but he didn't lie to Chloe when he said he would not leave her mother's side no matter what. He was genuinely concerned for Chloe and her life, and I believe he will also be in the running as more than a friend to Chloe
Alek really likes Chloe. Brian really likes Chloe and Carissa and Chloe really like them both, too. Conundrum!
Now that Scar-Face apparently bit the dust, I'm starting to wonder if Rezzer knows his son is involved with Chloe, and will use him in some way to get close to her and make an attempt on her life. At first, I thought Brian's dad was unaware of their relationship, but if Scar-Face knew, surely Rezzer knows, as well.
I think the introduction of Valentina will greatly enhance the Mai storyline, and I hope they use her character wisely. It's time for more drama and less child play. An entire race and our girl Chloe's life is at stake. Let's start acting like it!
Carissa Pavlica is the managing editor and a staff writer and critic for TV Fanatic. She's a member of the Critic's Choice Association, enjoys mentoring writers, conversing with cats, and passionately discussing the nuances of television and film with anyone who will listen. Follow her on Twitter and email her here at TV Fanatic.