SPOILER WARNING: The following interview touches upon developments from the season four premiere of True Blood.
So... fairies have an agenda, Bill is the King of Louisiana, Eric has entered the housing market and Jason might be in major trouble. These were just a few storylines thrown at viewers on the very busy "She's Not There" last night, an episode that jumped a year into the future.
Why did creator Alan Ball take such a leap?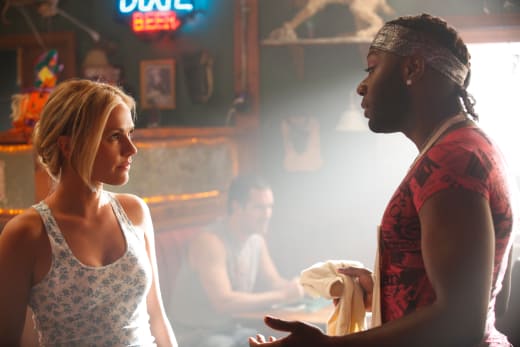 It seemed like a really organic way to kickstart the show so that it would be in a new place when she got back," Ball told TV Line, adding in another interview that Sookie will "learn a lot about what it means to be an actual fairy" this year.
Sookie's BFF has already undergone a transition, of course, as we saw her in the arms of a woman.
It makes sense, Ball says, when you think about "everything she had been through with Eggs and Franklin Mott."
What did you think of the premiere? Which storyline is most engrossing? Will Sookie actually let herself be Eric's, or will she continue to withhold the one thing this vampire wants most of all?