Gabriel Macht, who plays the charming but narcissistic Harvey Specter in the new USA Network series Suits, thinks that chemistry is a funny word.
When asked whether or not there was a moment when he and costar Patrick J. Adams, who plays whizkid protege Mike Ross, felt their chemistry clicked, Macht said: "From the second I met Patrick, I felt like we got along and I think, more importantly, we got a nice rapport and if that comes across as like, being great chemistry, then all the better."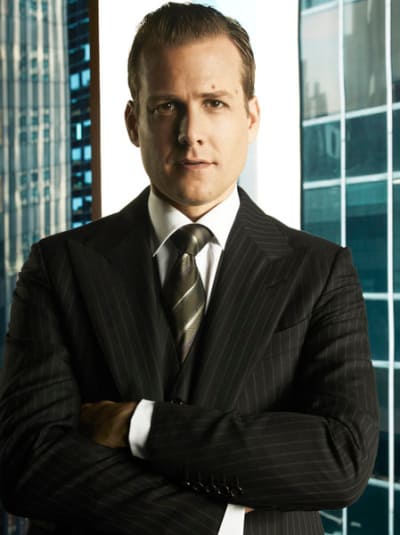 For a show set in a high-end Manhattan legal firm, Suits, which we earlier previewed, spends most of its time focused on relationships - and that is exactly how Macht likes it.
"Something that's great about this show is that... everyone is so unique, you know? They're just great characters. I think what USA does well is that this is a procedural show that doesn't feel like it when you're watching it. It feels more about 'what are these guys doing to each other and what's going on between the dynamic of these two characters.'"
In particular, Macht is thrilled with the layers he's discovering within Harvey's character.
"He comes off as like a real hard ass, but I think underneath he's really fair. When he's dealing with a case, Mike or any of the other characters he's morally in line with what's right. Now, he made this choice... I think he's just sort of bored with the young associates all coming out of Harvard and having to be stipulated as Harvard with no street smarts; nobody's got any sort of balls for lack of a better word."
So far, the word is that subsequent episodes improve upon the already high quality of the pilot, something for which Macht is grateful: "There are people [who have seen the next episode] who think it [gets] better, so that's like really awesome. We're all feeling really good about the scripts that are coming in and, you know, where the show is going."
He's especially happy with the direction the writers are taking Harvey, and smiled furtively when he related a moment coming up in which he faces off against a former law school rival with whom he engages in provocative negotiation tactics.
"There's a bunch of innuendo in there. A lot of this show is about winning and losing and who's smarter and who's stronger and all this stuff, so there's something interesting with that."
Playing a character as seemingly arrogant and self-involved as Harvey could backfire and cause audiences to find him repellent, but Macht is aware of this danger and works hard to ensure there's a balance.
"I don't relate to [Harvey] at all, because that's just not who I am. I'm trying to bring a little bit more of myself to him. He is a hard ass, sophisticated, cares about his presentation, cares about how slick he is and smart and, you know, clever," Macht said. "I think underneath, we're going to see, as the show goes, more vulnerability out of him.
"You're going to see that he cares about the ALS victim that's gotten a bad drug and has a really bad side effect. You're going to see that maybe the woman he's loved for so long got away and he'll be challenged by that. You might see him lose at some point where you're going to see a crack in his armor, his suit, to see that sort of peel away. I think there's a real mystery about him in ways we just haven't seen yet and you'll see those moments along the way with Mike, Jessica, Louis."
Harvey has a close relationship with his boss, Jessica (Gina Torres) but doesn't really think there has been or ever will be a romance between the two.
"I think he was sort of a scrapper early on and somehow got into the mail room and wasn't even a lawyer, didn't think about going to law school but he was really quick on his feet. [Jessica] saw that and put him on her desk or something when she was rising up. I think she started mentoring him... sort of a mirror of like how I'm mentoring Mike."
He suspects that Jessica may have been the one to put Harvey through law school and that, as a result, there's a level of respect and admiration that has developed between them, but that's as far as their relationship goes.
"I don't think there was a sexual thing going on with the two of us," he said. "[Jessica] basically took me [under her wing] and believed in me."
Because it's sort of built right into the title of the show, where does he Macht think Harvey's sense of fashionable style originated?
"I think he did meet some woman who taught him about all that stuff and helped him design his apartment... with his style and he became aware of fashion…and then she got away. [Now] I think he's just, like, 'You know what, I'm gonna play the field and have some fun until I find someone who is that woman again,' or whatever, or maybe she comes back, who knows? That's sort of how I see his connection with women and with Jessica."
Suits premieres Thursday, June 23 at 10/9c after the Burn Notice season premiere.
Jeffrey Kirkpatrick is a TV Fanatic Staff Writer. Follow him on Twitter.