United States of Tara Finale Review: Goodbye Bryce, Hello Boston
Matt Richenthal at .
I first watched "The Good Parts" months ago, reacting to the season finale with frustration.
After such a tremendous season, one in which United States of Tara shed almost all comedic aspirations and left viewers hanging each week with a darker and darker tone, the concluding episode felt rushed and anticlimactic.
That was it?!? I thought. Tara just offs Bryce, within her own head, 30 seconds in?!? And the rest of the half hour is spent getting the family's affairs in order?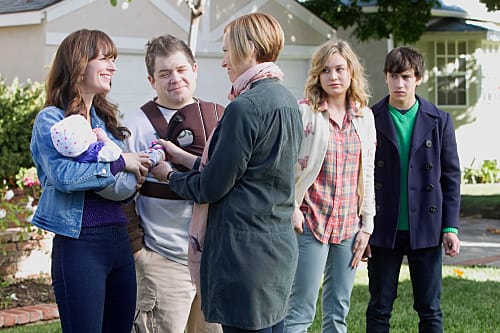 However, following the announcement that Showtime has canceled the series, the finale makes a lot more sense.
I have to believe the writers were given a heads-up that odds were not favoring a fourth season. Therefore, they were forced to tie up various storylines and characters in an efficient manner, likely sooner than they had originally hoped.
In this context, "The Good Parts" was a success.
Yes, the immediate way in which Bryce was killed (repressed?) was confusing and unsatisfying. But we had to spend the series finale with Tara herself, not any alters. We had to see Charmaine and Neil mature as a couple to the point where we actually believe they'd make solid surrogate parents to Marshall.
We had to see Kate finally find a direction in her life, even if it involves spending a lot of time with a manic eight-year old.
And, most of all, we had to see Tara actually want to seek help, with Max - as always - the calm, steady, loving presence in his wife's life. With the knowledge that this was the show's final episode, I couldn't have asked for a better concluding scene.
Tara has been trapped by her disorder for as long as we've known her. But now she's, literally, on the road to recovery. The Gregsons have been a dysfunctional, humorous mess for three seasons, but they weren't ruined by Tara's unusual influence. In many ways, it made them stronger, closer.
Our last shot of the group on the front lawn made it clear that everyone will be okay. They have all evolved since we first met them, which is the same thing we can say about the show itself. United States of Tara started as a quirky comedy and concluded as a fascinating, suspenseful character study, with dynamite performances all around. I'll miss it.
Matt Richenthal is the Editor in Chief of TV Fanatic. Follow him on Twitter and on Google+.